HHS announces the Move Health Data Forward Challenge Winners
Posted by Kay Deeney on March 2nd, 2017 Posted in: Electronic Health Records, General, Public Health, Scholarships and Grants

---
The Department of Health and Humans Services' Office of the National Coordinator for Health Information Technology (ONC) announced the Phase 2 winners of the Move Health Data Forward Challenge. Winning submissions will now move on to the challenge's last phase to develop applications that will allow individuals to share their personal health information safely and securely with their health care providers, family members or other caregivers.
Phase 1 of the Move Health Data Forward Challenge required applicants to submit their plans describing how they would develop solutions to help with the flow of health information. The ten Phase 1 winners were awarded $5,000 each and moved on to Phase 2, which required participants to demonstrate a viable solution to achieve those goals by allowing for the safe and secure exchange of consumer or provider health records.
Each Phase 2 winner below will receive a $20,000 award: CedarBridge Group LLC, EMR Direct, Foxhall Wythe LLC, Live and Leave Well, LLC, and Lush Group, Inc. Some of the projects entail smart phone or web-based application for consumer mediated health data exchange.
The five Phase 2 winners now move to Phase 3 which will award $50,000 for up to two winners based on the participant's ability to implement their solution through the development of a mobile or web-based application.
For more information and to read the descriptions of the projects, see https://nnlm.gov/bhic/6xj5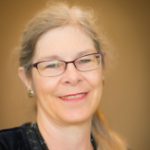 ABOUT Kay Deeney
Kay Deeney, MLS AHIP is the Education & Outreach Librarian with the National Network of Libraries of Medicine, Pacific Southwest Region located at UCLA.
Email author View all posts by Kay Deeney