Resources to Prepare for Dangerous Summer Heat from NLM
Posted by Annette Parde-Maass on July 13th, 2017 Posted in: National Library of Medicine News, Public Health, Websites

---
Check the "Extreme Heat Events and Health" page from the National Library of Medicine to learn best practices for preparing and responding to dangerously hot summer weather.
Topics covered on this page include:
Health issues related to extreme heat.
Preparedness and response resources.
Worker and responder safety.
Resources for specific populations (children).
Health resources for the public.
Resources in multiple languages.
Animals and extreme heat.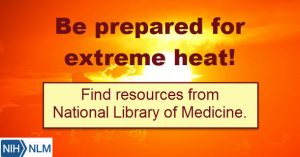 Original post from NLM Outreach and Special Branch Populations email post, 2017-07-12
ABOUT Annette Parde-Maass
Email author View all posts by Annette Parde-Maass