Find Trusted Health Information in Spanish for Your Patrons
Posted by Nora Franco on June 17th, 2020 Posted in: General, Health Information, Minority Health Concerns
Tags: COVID19, LatinX health
---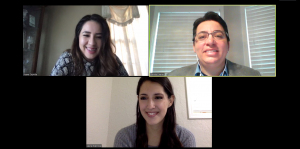 When library patrons ask you for health information in Spanish about COVID-19 or other issues, NNLM has resources to get you started.
Available tools  range from Spanish-language videos featuring Latino medical professionals to resources selected by trusted members of the Spanish-speaking community. The materials come from reliable sources like the National Library of Medicine and the Centers for Disease Control and Prevention. 
Many of these resources are recommended by promotores, members of the community who serve as connections between them and healthcare systems, information, and resources. Because promotores are the heart of their communities, they are able to deliver assistance where it is needed the most.
Vision y Compromiso (VyC), is a nonprofit organization dedicated to supporting, training, and most importantly celebrating promotores across the nation. Vision y Compromiso is marking 20 years of work devoted to improving the lives and health of their communities. 
In response to the pandemic affecting Spanish-speaking communities Vision y Compromiso developed a series of webinars for participants to learn about trusted places to find health information, myths about COVID19, and how to take care of oneself during these safer at home times. 
You can find the recorded webinars and resources on the Vision y Compromiso COVID-19 page. The NNLM PSR shares the promotores mission of building healthier communities and created a page with Spanish Language COVID-19 health information materials to support Spanish speakers as well. The PSR has previously collaborated with promotores, described by Yamila El-Kkayat, in this video about outreach work  in Arizona.
The JUNTOS Center for Advancing Latino Health at Kansas University Medical Center has created JUNTOS Radio, an ongoing series of podcasts in Spanish on health topics. The podcasts feature interviews with Latino health professionals about issues of concern to the Latino community in Kansas and elsewhere. The photo on the left is a screenshot of Brenda Linares, Medical Librarian from the University of Kansas Medical Center, Ileana Cepeda, and Valeria Macias from JUNTOS recording an episode about health literacy. This particular project is an example of an innovative way for NNLM member librarians to partner with community members and reach a wide audience.
Topics so far include COVID-19, child obesity, Alzheimer's Disease and exercise at home. Each podcast also includes information on the All of Us Research Program, an effort to enlist one million or more people from across the U.S. to help speed up medical research by sharing their medical information.
They are posted on Podbean, iTunes and in video format on YouTube and Facebook. You can access the podcasts at the JUNTOS Podbean page, on iTunes, on the JUNTOS YouTube channel for the JUNTOS Center for Advancing Latino Health, or on the JUNTOS Facebook page. 
To get an English auto-translation on the YouTube version, go to the settings for the video. Then select Subtitles, Auto-translate and finally English.
ABOUT Nora Franco
Nora Franco (she/her/ella) works as the Consumer Health Librarian for NNLM PSR at UCLA. She is passionate about eliminating health disparities and empowering people to participate in their healthcare by locating reliable health information.
Email author View all posts by Nora Franco