"We Live for the We: the Political Power of Black Motherhood" Livestream
Posted by hollystevenson on September 29th, 2020 Posted in: All of Us, Webinars
Tags: motherhood, racism and health
---
Last week authors Dani McClain and Andrea Collier discussed  McClain's book, We Live for the We: the Political Power of Black Motherhood.
"A longtime reporter on race, reproductive health, and politics, Dani McClain is also the mother of a little girl. Like all first-time mothers, she has countless questions about raising her child—and her questions take on political significance as she examines what it means to introduce her daughter to our unjust, even hostile, society, according to a statement by her publisher
Bold Type Books
.
"Black mothering is an inherently political act. Black women are more likely to die during pregnancy or childbirth than women of any other race; black mothers must stand before television cameras reminding the world that their slain children were human beings. In We Live for the We, McClain explores how to build a strong, supportive community for her daughter that includes often-ignored values and perspectives, and how to ensure her daughter lives with dignity and joy. She learns how to parent boldly in uncertain times, how to root herself in her faith and cope with the anxieties that sometimes threaten to consume her.
"McClain spoke with mothers on the frontlines of movements for social, political, and cultural change who are grappling with the same questions. Following a child's development from infancy to adolescence, We Live for the We shares lessons about the need for community, the challenges of navigating segregated schools, and how to talk honestly about sex and consent.
"Warm, wise, and urgent, We Live for the We will become a handbook for parents and a guide to help us imagine the society we build for the next generation," the statement concludes.
The livestream was recorded on Facebook and you can watch it
here
.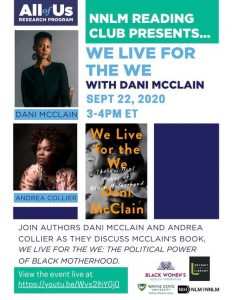 ABOUT hollystevenson
Email author View all posts by hollystevenson