Fruitful Beginnings in Consumer Health
Posted by Hannah Sinemus on August 3rd, 2012 Posted in: The MAReport
Tags: 2012 Issue 1
---
Consumer Connections
Lydia Collins, Consumer Health Coordinator
As Consumer Health Coordinator, I have had the opportunity to travel to various places throughout our region to conduct training, exhibit at conferences, and provide presentations. These experiences have allowed me to meet talented members in our region, while gaining a better understanding of the consumer health training needs that exist.  One of our goals as a regional medical library is to foster relationships amongst member organizations with a mission to disseminate free, reputable health information to health professionals, researchers, and the general public.
The National Library of Medicine (NLM) has a variety of resources available for use by "everyday people;" however, many are often unaware that such resources exist.  It is my hope that we, meaning you—our Network members—and I, can work together to increase awareness of the wonderful resources provided by NLM and other reputable organizations; thus, enabling the public to make informed decisions about their health.
Are you aware of all the resources that exist?  Be sure to tune into our BoostBox Session on December 11 to learn more.  Additionally, on August 30th I will be leading a Lunch with the RML discussion on children's resources in biology, careers, environmental health science/chemistry, general health and genetics.  I am also available to provide online and potentially in-person training to your group.  Contact me at nnlmmar@pitt.edu to discuss a session that meets your needs.
Have you considered providing outreach within your community or training sessions on NLM and other resources of interest?  Do you have an idea for a potential project but aren't sure how to make that idea come to fruition?  There are many opportunities for members to collaborate and as the title of my column suggests, I'd love to help "connect" you to others in our region who share similar interests.  If you are searching for ideas of projects or program ideas, there are many creative individuals in the Middle Atlantic Region who are doing good work and would be more than happy to share their ideas with you.
A few of the wonderful projects I've been involved with during the past months include:
In January 2012, in collaboration with the staff of the Carnegie Library of Pittsburgh's Hazelwood Branch, the program School Age Fun:  Healthy Habits Bingo and More! was developed and presented to neighborhood children and also at the local branch of the YMCA of Greater Pittsburgh.  This was an opportunity to introduce school-aged children to the idea of establishing healthy habits for the New Year, as well as provide training for library staff on integrating child-oriented health information resources provided by the NLM into story times and programming.
Most recently I have had the opportunity to train a group of phenomenal parish nurses and health ministers in Pennsylvania.  This was a chance for me to work with a group of individuals who are committed to assisting those in their communities make good choices in regards to their health.  The training sessions allowed me to see exactly how meaningful it is to work directly within the communities with persons who are truly appreciative for the freely available resources provided by NLM.  These training sessions were designed with guidance from real nurses, who everyday respond to health queries from church members and community persons much like librarians do.
NN/LM MAR was a first time exhibitor at the North American YMCA Development Organization (NAYDO) Annual Conference. YMCA's seek to empower community members and promote healthy lifestyles, youth development and social well-being.  I have had the opportunity to provide training and promote NLM Resources to numerous YMCA Staff and conduct programs for their Silver Sneakers Program to promote NIHSenior Health and some of the other resources for the aging population.
These are just a few of the activities that have been keeping me busy.  My plans for the future include offering more consumer health classes, as I know many of you are working toward your CHIS certifications, as well as helping to "connect" you to others in the region who are interested in similar work.  I look forward to the many opportunities of community engagement ahead and the opportunity to provide consumer health training throughout the Middle Atlantic Region.  Be sure to check our website and sign up for our listserv to see when I will be teaching at a venue near you!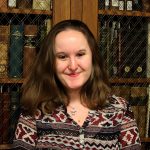 ABOUT Hannah Sinemus
Hannah Sinemus is the Web Experience Coordinator for the Middle Atlantic Region (MAR). Although she updates the MAR web pages, blog, newsletter and social media, Hannah is not the sole author of this content. If you have questions about a MARquee or MAReport posting, please contact the Middle Atlantic Region directly at nnlmmar@pitt.edu.
Email author View all posts by Hannah Sinemus