Providing Outreach through Exhibiting
Posted by Hannah Sinemus on August 3rd, 2012 Posted in: The MAReport
Tags: 2012 Issue 1
---
MAR Highlights
Renae Barger, Executive Director
One of the many exciting roles of a regional medical library is exhibiting at national, regional, state and local meetings and conferences.  Exhibiting offers the opportunity to demonstrate NLM products to health professionals, consumer groups and public, school and health sciences librarians.  It is also a great way to promote membership and services of the National Network of Libraries of Medicine (NN/LM).
In our first year as a regional medical library, NN/LM MAR staff promoted NLM resources to over 1,000  health professionals, public health workers, community-based leaders and librarians through exhibiting at 4 national and 8 regional or state meetings.  Staff also reached a large population of health consumers during a local employee health fair.  For instance, MAR highlighted drug information resources to pharmacists during the American College of Clinical Pharmacy annual meeting; emergency response tools and public health resources during the NJ Environmental Health Association meeting and K-12 resources to school librarians at the New York City School Library Association annual conference.
MAR also offers exhibit awards to allow Network members the opportunity to exhibit at a state or local level.  Drexel University public health librarians attended and exhibited during the Pennsylvania Public Health meeting held in Philadelphia, PA; whereas, Mid-Atlantic Behavioral Health received an award to exhibit and present mental health services and resources to area seniors in Newark, DE.
The regional medical library 2012-2013 contract year began on May 1.  So far, MAR has exhibited at the following national, regional and state meetings:
American Psychiatric Association
American Diabetes Association
National Association of Counties
Delaware/Maryland Joint Library Association
New Jersey Library Association
Pennsylvania Mental Health Consumers Association
State University of New York Library Association (SUNYLA)
Information professionals located in public libraries, community colleges and institutions offering 2-year and 4-year academic programs in the health sciences will be able to stop by the MAR exhibit booth at the upcoming NY and PA state library association meetings.  Those in K-12 libraries and science teachers will benefit from MAR exhibits during the NJ Association of School Librarians, NY City School Library System and the NJ Science Convention meetings.
Outreach to public health workers and unaffiliated health professionals will occur through exhibiting at the Migrant and Immigrant Health in Rural Pennsylvania Conference and the New Jersey School Health Conference, as well as 3 forthcoming state public health association meetings:  New York Public Health Association, Pennsylvania Public Health Association and New Jersey Public Health Symposium.  Finally, MAR plans to exhibit to mental health professionals and consumers during the Delaware Community Mental Health Conference, Delaware Psychological Association Mixer, National Alliance on Mental Illness-New York State and New Jersey Association of Mental Health and Addiction Agencies annual conferences.
Are you looking for an excuse to get out of the library and mingle with a health professional association, community organization that provides health information to consumers, or perhaps emergency response personnel?  Then consider applying for a NN/LM MAR Exhibit Award to support registration fees, travel and other related expenses.  MAR will provide the exhibit structure, educational and printed materials and consultation on applicable NLM resources for your target group.  Exhibiting is a great opportunity to promote your library services while promoting free, reliable resources provided by the National Library of Medicine!
Do you belong to a professional organization that would benefit from access to free, reliable biomedical information provided by the National Library of Medicine?  Do members of your organization provide patient education?  If so, your profession may benefit from MAR exhibiting at your next annual meeting.  To recommend that MAR exhibit at an annual meeting taking place in our 4-state region:  DE, NJ, NY or PA, email us at nnlmmar@pitt.edu.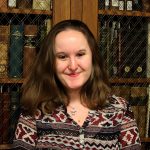 ABOUT Hannah Sinemus
Hannah Sinemus is the Web Experience Coordinator for the Middle Atlantic Region (MAR). Although she updates the MAR web pages, blog, newsletter and social media, Hannah is not the sole author of this content. If you have questions about a MARquee or MAReport posting, please contact the Middle Atlantic Region directly at nnlmmar@pitt.edu.
Email author View all posts by Hannah Sinemus