Winner of the MLA Hospital Libraries Section Leadership Award
Posted by Hannah Sinemus on August 3rd, 2012 Posted in: The MAReport
Tags: 2012 Issue 1
---
Member Spotlight
Mary Jo Russell, MLS, AHIP
Encouraged by my mentor-professor at Houghton College, I pursued a Master of Library Science degree from the University at Albany.  After graduating in 1989, I landed my first part-time job as a hospital librarian.  Soon thereafter I accepted a full-time position as Manager of Library Services at Vassar Brothers Medical Center in Poughkeepsie, NY.  I've been actively involved in our regional Southeastern NY Library Resources Council (SENYLRC) and in the Upstate New York-Ontario Chapter (UNYOC) of MLA, serving on the Executive Committee and the Conference Planning Committee.
The most fascinating and challenging aspects of my job have been, and continues to be, keeping pace with a rapidly evolving technology environment.  In 2010, I received a Technology Improvement Express Award from the Middle Atlantic Region (MAR) to obtain new computers, computer workstations and a network printer.  In 2011, I received another award for the purchase of iPads.  Our main goal was to improve staff access to online resources.  But both awards enabled us to reach much farther by:  1) completely redesigning the library to accommodate the workstations; 2) enabling teachable moments at staff meetings, in conference meetings, at special events and even in the hallway due to the iPad's mobility; 3) taking the library outside the four walls and promoting our online resources at the point-of-care; 4) seeing a five-year dream come true with approval to add a part-time library coordinator who is our liaison to the medical staff; and 5) migrating to a new web site which allows us to take advantage of web hosting and mobile apps.
Most meaningful to me is the recent recognition I received from my colleagues who nominated me for the MLA Hospital Libraries Section Leadership Award.  In the nomination they spoke of a variety of my leadership roles, collaborative work and initiatives both locally and regionally.  I would not have been as successful in my career had it not been for the many opportunities I've had for professional development and the numerous interactions I've had with colleagues at so many levels, particularly through SENYLRC, UNYOC and MAR. Thank you!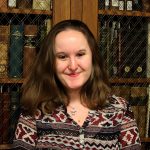 ABOUT Hannah Sinemus
Hannah Sinemus is the Web Experience Coordinator for the Middle Atlantic Region (MAR). Although she updates the MAR web pages, blog, newsletter and social media, Hannah is not the sole author of this content. If you have questions about a MARquee or MAReport posting, please contact the Middle Atlantic Region directly at nnlmmar@pitt.edu.
Email author View all posts by Hannah Sinemus