Merging Art, History, and Libraries All into One
Posted by Hannah Sinemus on November 10th, 2012 Posted in: The MAReport
Tags: 2012 Issue 2
---

Member Spotlight
Kristine Delaney, MLS
After receiving a degree in Art History from SUNY Plattsburgh and an MLS from Syracuse University, I spent several years as a special librarian and archivist at an art and natural history museum on Staten Island.  This work was immensely gratifying to me and I might have imagined remaining in the art and archival world for a long time.  But a relocation to Syracuse presented me with a job offer in the field of health sciences librarianship at Crouse Hospital, a 520-bed acute care hospital with 2600 employees and 927 physicians on staff.  I accepted the position as a new opportunity for growth.
While it was an unexpected career turn, it has proven to be a fun-filled, fast-paced adventure.  I am continually challenged to stay current in health science knowledge and provide information services relevant to our customers, including over 350 students in the Crouse Hospital College of Nursing.  Since 2008, I have been serving as the Manager of the Library.  The Library is staffed with two librarians and one library assistant.  What I didn't expect in accepting this position –over 20 years ago now –but which continues to inspire me, is that I have found many opportunities to use my fine art and archival background to contribute to hospital initiatives.
Drawing on Crouse's rich history in the community, I leverage my past experience to preserve, interpret and present the hospital's heritage.  Archival material, including photographs, documents and artifacts collected throughout the hospital's history, is organized and preserved in the Library.  By providing ready and efficient access to these materials, many exciting and creative projects have been born.  For example, in 2007 I contributed to the publication of a historical retrospective of the Hospital—Crouse Hospital:  120 Years of Innovation and Commitment to Central New York (http://crouse.org/about/inside-crouse/story) and the promotion of a corresponding exhibit at the Onondaga Historical Association.
Looking forward to 2013, our organization will celebrate the 100th anniversary of the College of Nursing.  Again, the archival collections will help inform and educate students, employees, alumni, and the community about the unique influence that individuals in our institution made to the early development of nursing education.  For example, Crouse's founder, physician William Wallace, and the Director of the Training School, nurse Elsie Hillen, spearheaded early adoption of shorter working hours for nurses and helped to elevate nursing from a vocation to one of professional standing and recognition.  Utilizing our hospital's rich history to promote projects such as these–-many of which continue to be shared during employee orientation, leadership development and on Facebook–contribute to our organization's culture and help to foster a sense of family and community connectedness
Also, I serve as a member of the hospital's Healing Environment Committee.  We support the use of various art forms to create an environment that promotes the healing process for patients, welcomes visitors and enhances the workplace for staff.  Each year, we partner with a local elementary school whose students' bright and engaging paintings are hung right off the main lobby of the hospital.
In 2011, the Library was redesigned into a friendly and welcoming learning commons while the College incorporated a state-of-the art Simulation Laboratory next door.  In May 2012, a Technology Express Award from MAR allowed us to jump start an iPad lending program.  We purchased 12 iPads, accessories and a tablet management unit.  Each iPad is loaded with our nursing student textbook package from Elsevier, LexiComp mobile, library resources including PubMed and MedlinePlus, and some popular free apps for nursing students such as Lippincott's NCLEX Q&A.  The award supports our vision of providing equitable access to both computer hardware and information resources to all students, regardless of economic constraints, as well as sustaining the informatics components of the College's curriculum.  Students use the iPads in their clinical rotations to access "just in time" information.
Although I never expected to pursue a career as a health sciences information professional, I find it rewarding, exciting and challenging.  I particularly enjoy contributing to the experience of patients and staff on a direct, first-hand basis.  Throughout my career, membership in MLA and UNYOC/MLA has been invaluable in keeping up with emerging trends, while providing a great network of fellow medical librarians for support.  But the opportunity to integrate my artistic and archival interests and education within the health sciences to the service of my organization has proven to be a win-win situation.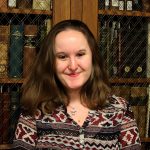 ABOUT Hannah Sinemus
Hannah Sinemus is the Web Experience Coordinator for the Middle Atlantic Region (MAR). Although she updates the MAR web pages, blog, newsletter and social media, Hannah is not the sole author of this content. If you have questions about a MARquee or MAReport posting, please contact the Middle Atlantic Region directly at nnlmmar@pitt.edu.
Email author View all posts by Hannah Sinemus