New Space, New Look for MAR
Posted by Hannah Sinemus on November 28th, 2012 Posted in: The MAReport
Tags: 2012 Issue 2
---
Director's Musings
Barbara Epstein, Director
As you know, in May 2011 MAR moved to the Health Sciences Library System at the University of Pittsburgh.  By January 2012, we were fully staffed by four energetic coordinators, an administrator, and an Executive Director.  But, alas, we had very little extra office space.  So MAR staff were housed in a variety of makeshift offices on the upper floor of Falk Library of the Health Sciences, our flagship library.
Last summer, the library's upper floor was renovated.  We closed our Computer and Media Center (CMC), and relocated all our public computers out into the library's open seating and study space, instead of confining technology behind walls and doors.  MAR staff members were once again displaced during construction.  But when the banging and hammering finally subsided, MAR staff moved into their permanent quarters in the former CMC space.
They are pleased to be housed in one area, so they can exchange ideas and news about member activities more easily.  The new MAR office suite is very comfortable, including a conference room with technology for webcasting, other distance education, and meetings.  A computer classroom with 22 seats is next door.  We've included photos below from our Open House in October.
If you find yourself in Pittsburgh, please stop by and visit!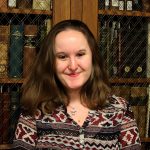 ABOUT Hannah Sinemus
Hannah Sinemus is the Web Experience Coordinator for the Middle Atlantic Region (MAR). Although she updates the MAR web pages, blog, newsletter and social media, Hannah is not the sole author of this content. If you have questions about a MARquee or MAReport posting, please contact the Middle Atlantic Region directly at nnlmmar@pitt.edu.
Email author View all posts by Hannah Sinemus