Environmental Health Resources from the National Library of Medicine
Posted by Hannah Sinemus on February 8th, 2013 Posted in: The MAReport
Tags: 2013 Issue 1
---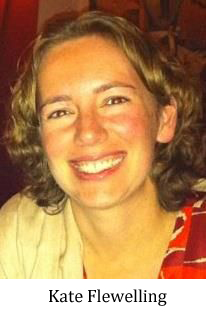 Out and About
Kate Flewelling, Outreach Coordinator

The National Library of Medicine (NLM) has created a number of environmental health information resources for health professionals and the public.  This article highlights a few.
Household Products Database:  http://householdproducts.nlm.nih.gov/
Ever wonder about all of those unpronounceable ingredients in your shampoo, cleaners and toothpaste?  From dry erase markers to kitty litter to plant fertilizer, the Household Products Database provides information about what's in the products you use every day, potential health effects, as well as safe handling and storage.  Search by product or ingredient or browse products by category.  For those who want more information about individual ingredients, there are links to biomedical and toxicology literature.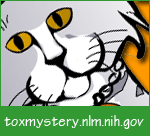 ToxMystery:  http://toxmystery.nlm.nih.gov/
This interactive game for kids grades K-6, allows participants to follow Toxie the Cat around a house looking for environmental health hazards.  Toxie speaks both English and Spanish, and kids (as well as kids at heart) can have fun finding the safety issues in the kitchen, garage, bedrooms, laundry room and other areas of the house.  Parents and teachers enjoy the lesson plans and activities that go along with the game.
Tox Town:  http://toxtown.nlm.nih.gov/

Tox Town is an interactive website for those in middle school to adulthood who are interested in environmental health issues.  Users explore different locations—City, Farm, Town, Port, Border Regions  and the U.S. Southwest—each with their own unique neighborhoods and health risks.  In the Farm location, for example, users learn about drought, agricultural run-off, feeding operations, pests and logging.  In the Port, users can find chemicals and health hazards related to storms and floods, fish farming, industrial run-off, shipping and wastewater treatment.  As users click through a location, they are given an overview of the health issues and chemicals in the area and are connected to information from MedlinePlus (http://www.nlm.nih.gov/medlineplus/) and other reliable resources.
TOXMAP:  http://toxmap.nlm.nih.gov/
Using the Toxics Release Inventory (http://toxmap.nlm.nih.gov/toxmap/faq/2009/08/what-is-the-toxics-release-inventory-tri.html) and data from the Superfund Program (http://toxmap.nlm.nih.gov/toxmap/faq/2009/08/what-is-the-toxics-release-inventory-tri.html), TOXMAP allows users to explore on-site chemical releases and hazardous waste sites on a map.  Users can search by location and chemical name.  All chemical names on TOXMAP are linked to reliable information from the NLM and other sources.
For links to these environmental health resources and others from the NLM, go to NLM's Environmental Health and Toxicology portal:  http://sis.nlm.nih.gov/enviro.html.  For training on these and other resources, contact NN/LM MAR at nnlmmar@pitt.edu.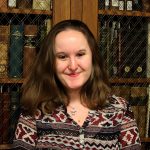 ABOUT Hannah Sinemus
Hannah Sinemus is the Web Experience Coordinator for the Middle Atlantic Region (MAR). Although she updates the MAR web pages, blog, newsletter and social media, Hannah is not the sole author of this content. If you have questions about a MARquee or MAReport posting, please contact the Middle Atlantic Region directly at nnlmmar@pitt.edu.
Email author View all posts by Hannah Sinemus