Thanks to Our RAC and SAG Members
Posted by Hannah Sinemus on February 9th, 2013 Posted in: The MAReport
Tags: 2013 Issue 1
---
Director's Musings
Barbara Epstein, Director
It's hard to believe that we are actively planning for our third contract year of serving as the home of the NN/LM Middle Atlantic Region.  Each of our staff members has grown in ways they couldn't have imagined when they first joined us. They've mastered PR and marketing, bolstered online and face-to-face communication and teaching skills, mentored award applicants, and planned outreach programs for audiences as diverse as elementary students to senior clinicians.  All this while juggling calendars, airline schedules, hotel reservations, and office construction.
But I'm sure our staff will agree that the most rewarding part of their job is getting to know the varied members of our large network.  We are particularly grateful to MAR's RAC and SAG members.  These are the generous professionals who provide valuable guidance to us through participation on the Regional Advisory Committee (RAC) and four Special Advisory Groups (SAGs):  Hospital Libraries, Consumer Health, Outreach to Health Professionals & Public Health Workers, and Resource & Academic Libraries.  Each group has quarterly phone calls and ongoing listserv discussions.  RAC and SAG members have enthusiastically endorsed our mission, and offered suggestions for outreach and education opportunities.
You can find information about RAC and SAG activities on our website:  http://nnlm.gov/mar/about/rac.html and http://nnlm.gov/mar/about/sag.html.  Note that there is a rotating membership, with a few members rotating off next year.  So it's not too soon to think about volunteering as a RAC or SAG member in the future!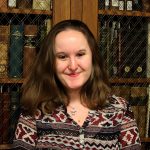 ABOUT Hannah Sinemus
Hannah Sinemus is the Web Experience Coordinator for the Middle Atlantic Region (MAR). Although she updates the MAR web pages, blog, newsletter and social media, Hannah is not the sole author of this content. If you have questions about a MARquee or MAReport posting, please contact the Middle Atlantic Region directly at nnlmmar@pitt.edu.
Email author View all posts by Hannah Sinemus