Library Collaboration and Advocacy
Posted by Hannah Sinemus on November 20th, 2013 Posted in: The MAReport
Tags: 2013 Issue 4
---
Director's Musings
Barbara Epstein, Director
We have just passed the midpoint of our five-year contract to lead the NN/LM Middle Atlantic Region.  One of the hallmarks of our program is to encourage library collaboration and advocacy.  In the past three months, we've seen two projects come to fruition.
You've heard about the Value of Libraries study sponsored by MAR and several other library groups.  (If you aren't familiar with this research, visit: http://nnlm.gov/mar/about/value.html).  This study began seven years ago during the previous MAR contract with New York University.  I was present when a group of library leaders scratched our heads to figure out how we could demonstrate evidence of the important contributions of health sciences libraries to the clinical mission of our institutions.  A planning group was appointed, and as they say, "the rest is history."  The full results of the study were published in the August 2013 issue of the Journal of the Medical Library Association (PMID 23418404). We salute the planning group chair, Julia Sollenberger from the University of Rochester Medical Center, for her recent publication in the Sept. 25, 2013 issue of Journal of the American Medical Association, titled "The evolving role and value of libraries and librarians in health care," highlighting the study findings (PMID 24065006).
In the past quarter, MAR also partnered with the Association of Academic Health Sciences Libraries (AAHSL) to host a webinar series on research data management.  This was open to MAR members and AAHSL institutions nationwide.  The three webinars included presentations from recipients of NLM Administration Supplement awards for Informationist Services in NIH-funded research projects.  These included institutions such as New York University, University of Rochester, Johns Hopkins University, University of Massachusetts Medical School, Indiana University, and the National Institutes of Health.  The informationists discussed their projects in two of the webinars, while the third offered perspectives from library directors on administration and assessment of these innovative services.  Visit the MAR website (http://nnlm.gov/mar/training/aahsl/) to view the series.  The AAHSL-MAR research webinar series will continue in 2014.
Best wishes for a happy and productive new year, and watch for a MAR event (virtual or in-person) near you!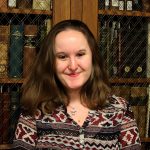 ABOUT Hannah Sinemus
Hannah Sinemus is the Web Experience Coordinator for the Middle Atlantic Region (MAR). Although she updates the MAR web pages, blog, newsletter and social media, Hannah is not the sole author of this content. If you have questions about a MARquee or MAReport posting, please contact the Middle Atlantic Region directly at nnlmmar@pitt.edu.
Email author View all posts by Hannah Sinemus