Data Visualization: A Graph or Table is Worth 1,000 Words
Posted by Hannah Sinemus on February 28th, 2014 Posted in: The MAReport
Tags: 2014 Issue 1
---
Sharing & Caring
Michelle Burda, Network and Advocacy Coordinator

"By 2015, Americans are expected to consume media for more than 1.7 trillion hours, or an average 15.5 hours per person per day, again not counting workplace time. The amount of media delivered will exceed 8.75 zettabytes annually, or 74 gigabytes, which is equal to approximately nine DVDs worth of data sent to the average consumer on a typical day." http://www.marshall.usc.edu/faculty/centers/ctm/research/how-much-media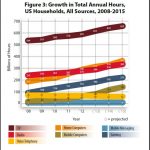 With so much competition for our attention, it is more important than ever to be able to effectively and efficiently communicate data. The presentation of our information has to be not only engaging, but quickly and easily understood. Data visualization, using images to represent information, can help us do this.
When new information technology becomes popular, there is a rush to use it before there is a good understanding of what it is, how it works, and when its use is appropriate. To be able to use data visualization we must first understand what it is.
Data visualization, as defined by Azam, Evergrenn, Germith & Kessler (2013), is a process that is:
Based on quantitative or qualitative data
Results in an image that is representative of raw data
Readable by viewers and supports exploration, examination, and communication of the data
The main purpose is to communicate information. The visual, creative process requires thought, preparation and a good understanding of the complexities of the collected data. You want your stakeholders to walk away with the ability to reflect, analyze and generate knowledge from the data presented. You want your visualization to be meaningful and remembered but you must not sacrifice functionality for aesthetics.
Brief History
The predecessors to data visualization date back to the 2nd century. The earliest table that has been preserved was created in Egypt to organize astronomical information as a navigational tool.  If you fast forward to the late 18th and 19th centuries, the time-series line graph, the bar chart, and the pie charts we use today were invented by William Playfair in 1786 and 1801.
In 1855, Dr. John Snow used a dot map to identify cholera deaths which clustered around the tainted Broad Street pump in London. The map shows the clusters of cholera cases in the 1854 London epidemic. The pump is located at the intersection of Broad Street and Little Windmill Street. Cholera cases are highlighted in black.
Florence Nightingale used circular area "rose" charts to show that during the Crimean War more British soldiers died due to inadequate hygienic conditions in battlefield hospitals, rather than in combat.
The Present
Two popular types of data visualizations are Dashboards and Infographics.  A dashboard is a visual display of the most important information needed to achieve one or more objectives; consolidated and arranged on a single screen so the information can be monitored at a glance. (http://www.dashboardinsight.com/articles/digital-dashboards/fundamentals/what-is-a-dashboard.aspx#sthash.1axYLcJI.dpuf)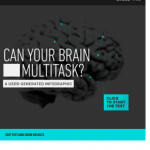 Information Graphic or Infographic is a visual representation of a data set or instructive material. An infographic takes a large amount of information in text or numerical form, and then condenses it into a combination of images and text, allowing viewers to quickly grasp the essential insights the data contains. (http://www.techopedia.com/definition/27808/information-graphic-infographic)
The visualization tools of today have made it easier for the public to conduct their own analysis of shared data from both public and private organizations found on websites like Data.gov, a repository of federal data, and Kids Count Data from the Anny E. Casey Foundation.
Using your own personal data, try creating a visualization on Daytum.com.  It is a free, easy to use, intuitive tool for counting and communicating personal statistics.  See the example I created: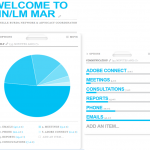 I hope this brief overview has sparked your interest and you will explore further the various types of visualization tools and resources.
MAR will be hosting two very interesting Boost Box sessions on data in March and April. Attendees can receive one MLA CE for each.
March 11 we will have Linda Galloway,  Biology, Chemistry and Forensic Sciences Librarian, Bibliographer for the Sciences & Technology, Syracuse University Libraries as our special guest. She will be presenting, "Introduction to Altmetrics."   Altmetrics, or alternative citation metrics, provide new ways to track scholarly influence across a wide range of media and platforms.
Join our webinar to learn altmetric fundamentals, get some tips on connecting your users with Altmetrics and receive a quick update on the newest published research in this field.
April 8 we will have Daina R. Bouquin, Data & Metadata Services Librarian, Samuel J. Wood Library & C.V. Starr Biomedical Information Center, Weill Cornell Medical College.  She will be speaking on learning the basics of choosing a tool and constructing infographics to display aggregated statistics and communicating your message. These concepts can help you better understand more advanced topics like data visualization, as well as working with data to assess your library and communicate with your stakeholders.
Resources
Azzam T., Evergreen S., Germuth A.A., Kistler S.J. (2013) Data Visualization and Evaluation. In T. Azzam & S. Evergreen (Eds.), Data Visualization: part 1, New Directions for Evaluation, Number 139, 7-32.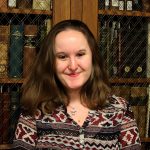 ABOUT Hannah Sinemus
Hannah Sinemus is the Web Experience Coordinator for the Middle Atlantic Region (MAR). Although she updates the MAR web pages, blog, newsletter and social media, Hannah is not the sole author of this content. If you have questions about a MARquee or MAReport posting, please contact the Middle Atlantic Region directly at nnlmmar@pitt.edu.
Email author View all posts by Hannah Sinemus