East Brunswick Public Library Carves Niche in Health Literacy
Posted by Hannah Sinemus on May 30th, 2014 Posted in: The MAReport
Tags: 2014 Issue 2
---
Member Spotlight
Karen T. Parry
Manager of Information Services
East Brunswick Public Library
East Brunswick, NJ
My passion for health literacy started with the personal story of my mother, Yolanda, who suddenly became a neurology patient on an August day in 2003. The day after my 47th birthday, I was standing in a hospital hallway as her doctor uttered that awful phrase "Glioblastoma Multiforme", a rare, fatal brain tumor. During the next two months until her death, I found myself on an unexpected quest to learn as much as I could about this mysterious condition. I was surprised by my own ineptitude at finding information, notwithstanding my MLS degree from Rutgers University, 14 years as a research librarian at Bell Laboratories, and now the Manager of Information Services at the East Brunswick Public Library (EBPL). I longed for trustworthy information to shed light on her condition.  Unbeknownst to me at the time, the library's Just for the Health of It initiative would emerge from this dark period and would go on to illuminate health understanding for so many people.
During the years following my mother's death, the East Brunswick community was transforming into a rich patchwork of immigrants, largely from India, China, Egypt, Iran, Russia and Korea and our library "regulars" were aging. Gradually a trend emerged from the requests we were researching at the Information Desk: many of our customers were turning to the public library as their first stop for health information. My colleagues and I recognized that some had limited knowledge of English and sought to learn about their condition in their native language. Many older residents looking for health information suffered from arthritis in their hands, visual or cognition decline, short term memory loss, or simply lacked computer skills.
Suddenly, the need for quality health information was not just a personal experience. At a time when everyone was saying public libraries were dead, I understood that our role was merely shifting away from "ready reference" towards more in-depth meaningful research. Librarians are trained information specialists so my idea was to simply shift how we did research: our reference service would need to become more research-based, and librarians would need to mobilize and become skilled marketers. With the blessing and support of my Library Director and four librarians who volunteered their services, we forged ahead.
Our library is fortunate to have an onsite cable television station that reaches 8,000 households in our community. I summoned my staff and their multilingual capabilities to publicize a new "Just for the Health of It" service. Each spoke eloquently on camera in their native language about how the library will perform custom research on health topics that is uniquely tailored to each person's ability and needs. Within a year, the word was out and we had transformed the East Brunswick Public Library into "the place" for the best health information around. It wasn't uncommon for customers to drop by the Information Desk on their way home from the doctor's office and ask a librarian for a simple but thorough explanation of their diagnosis.   The requests were more complex than expected. Our lawyer wrote a disclaimer and librarians made it clear that all research must accompany a doctor's diagnosis.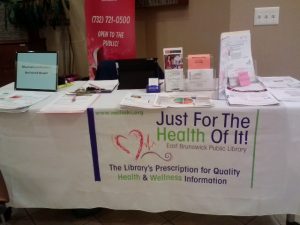 Soon after EBPL became an affiliate member of NN/LM MAR and that's when the magic really happened. The ability of our librarians to perform health research grew exponentially with the knowledge gained at each MAR class and webinar. In the fall of 2010, thanks to award money received from MAR to design a community health portal, www.wellinks.org, our service was launched into a bigger sphere. This web-based resource vets and organizes top quality links for health information on a myriad of topics. The web portal has evolved into an ever-changing entity of the highest quality health resources that librarians add from their ongoing MAR training. The library was recently awarded a second MAR to redesign the health portal using open source software that is more end-user centered and flexible.
Today, all four member of the EBPL Consumer Health Librarian Team are CHIS-certified and all are pursing CHIS Level II. Just for the Health of Itgarnered recognition by the Home News Tribune newspaper with the storyline, "Customized Health Service May Provide Glimpse of Libraries' Future." The editorial stated that "this unique service has the potential to help change the way libraries serve their members on a national scale."
In 2013 the library entered into a pilot program with Robert Wood Johnson University Hospital. Each week our public librarians mobilize and go offsite to promote health literacy at the RWJ Fitness & Wellness Centers. While visiting these facilities, librarians answer on-site questions using our health portal. Complex research requests are completed by a consumer health librarian back at the library and mailed to the requestor. In the first year, librarians answered 522 requests and conducted 651 hours of research. Thanks to our partnership, EBPL recently held a Health Literacy Day at the library in partnership with Rutgers-Robert Wood Johnson Medical School. The goal of the day was to teach medical students how to explain common health issues in "living room" language. Our librarians found articles for the medical students on various health topics and worked side-by-side with them throughout the day. Feedback was extremely positive by customers and medical students.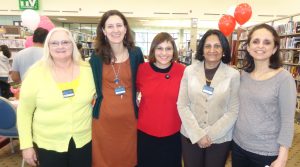 The success of the Just for the Health of It program is due in large part to my Consumer Health Librarians – Cathy, Sara, Sonal, Renu – to whom I am deeply indebted.   They have fashioned this initiative into a meaningful outreach project with their nonstop, brilliant ideas. Their unique combination of competence, boldness and compassion that has made our library a beacon of health literacy. I am gratified that my mom would be proud of how her illness forged a tremendous service for our communities.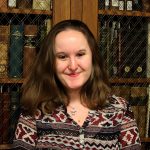 ABOUT Hannah Sinemus
Hannah Sinemus is the Web Experience Coordinator for the Middle Atlantic Region (MAR). Although she updates the MAR web pages, blog, newsletter and social media, Hannah is not the sole author of this content. If you have questions about a MARquee or MAReport posting, please contact the Middle Atlantic Region directly at nnlmmar@pitt.edu.
Email author View all posts by Hannah Sinemus