Get Ready to Play Online, New K-12 Class from NN/LM
Posted by Hannah Sinemus on May 30th, 2014 Posted in: The MAReport
Tags: 2014 Issue 2
---
Consumer Connections
Lydia Collins, Consumer Health Coordinator
As many of you know, the National Library of Medicine (NLM) produces a variety of amazing resources that are geared for use by educators, librarians, and community- and faith-based organizations who work with K-12 populations. The resources cover a range of topics around health and science such as, biology, environmental health, and genetics. Some even include resources available in Spanish.
Over the past two years NN/LM MAR has participated on a voluntary K-12 Outreach Initiative from NLM. A committee was formed and co-chaired by Renae Barger, Executive Director of NN/LM MAR and Michelle Malizia, Associate Director, NN/LM South Central Region. As the Consumer Health Coordinator, I have had the privilege of serving on this committee as we work to define the target population; learn about their needs and the available resources; as well as articulate desired outcomes for K-12 outreach in each region.
As part of MAR's K-12 outreach, I have exhibited and provided conference presentations at a variety of K-12 educator and school librarian conferences throughout our region. Each time I have the opportunity to share with attendees the freely available materials from the NLM, I see the amazement and wonder in their eyes. Questions such as: "Are these resources new?", "How come I have never learned about these before?" and "Where have you all been hiding these gems?" are heard repeatedly.
Based on this feedback, it was obvious that a more formal way to share the engaging and educational K-12 resources from NLM was needed. NLM's Online Playground: K-12 Health and Science Resources from the National Library of Medicine is a brand new, 3-week online course I will be offering. If you are a library staff member, community- or faith-based worker, K-12 professional, or just a curious parent who wants to learn more about the various resources and how you might use them in your setting, then this is the class for you.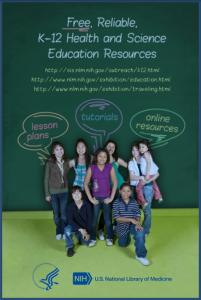 The resources that will be covered range from general health, biology, genetics, and environmental health. Also, a variety of multidisciplinary resources will be covered for those who are interested in meeting common core standards.
This class was designed as an introduction to NLM resources for K-12 professionals, public librarians, academic librarians who support education majors, and other individuals who work with K-12 populations. The following topics are covered:
K-12 Health and Science Resources by Subject
MedlinePlus and K-12 Components
Interdisciplinary K-12 Resources (Online Exhibitions)
By the end of the course attendees should be able to identify several NLM Resources that will be useful for the K-12 populations they serve.
The online version of the course has been approved for 3 MLA continuing education (CE) credits. This asynchronous, self-paced course will be offered for the first time in the Middle Atlantic Region beginning August 25, 2014.  For more information and to register: http://nnlm.gov/mar/training/register.html?schedule_id=2923
To learn more about the course: http://nnlm.gov/training/playground/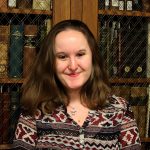 ABOUT Hannah Sinemus
Hannah Sinemus is the Web Experience Coordinator for the Middle Atlantic Region (MAR). Although she updates the MAR web pages, blog, newsletter and social media, Hannah is not the sole author of this content. If you have questions about a MARquee or MAReport posting, please contact the Middle Atlantic Region directly at nnlmmar@pitt.edu.
Email author View all posts by Hannah Sinemus