Running Your Hospital Library Like a Business: Class Evaluation Summary
Posted by Hannah Sinemus on May 30th, 2014 Posted in: The MAReport
Tags: 2014 Issue 2
---
Sharing & Caring
Michelle Burda, Network and Advocacy Coordinator

To continue delivering support for clinical care, research and education, a hospital library must be run like a business. The members of the MAR Hospital Special Advisory Group (SAG) recognized the need for hospital librarians to develop a strategic sense of business in the changing environment of medical libraries. A course was designed to be an introduction to business concepts, with the idea that some sections could be expanded and offered as a separate class in the future, depending upon interest.

In May 2013, MAR offered a series of four, 90-minute online classes.
Attendees:
Learned to write a business plan that embraced the mission and objectives of their hospital
Learned to be a convincing negotiator when representing themselves, their customers and their library
Learned to quantify and qualify their worth with dollar signs instead of anecdotes
By the end of the class we hoped attendees would be able to align their valued-added service with the values of their hospital.
The four sessions were well attended by over 75 people attending one or more classes. Participants included members from Middle Atlantic Region, as well as from the other seven regions nationwide. In order to determine if the class impacted the way librarians conduct day-to-day operations and/or management of library services, a follow-up evaluation was sent to all attendees in March 2014.
We had a 60% response rate. This is a snapshot of who responded.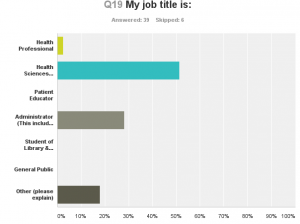 It was interesting to note that of those who responded, 58% of the libraries' mission statements aligned with their institutions, whereas 18% did not know if the mission statement aligned with their institution.
Most of the respondents, over 50%, felt confident or somewhat confident that they could apply the negotiation techniques presented in our third session "The Art of Negotiation."
After the last session "Proving Your Worth", over 63% reviewed one of the landmark studies on the value of libraries. Another 23% joined a hospital wide committee or partnered with a hospital department.
The most interesting responses were the new activities that the respondents tried as a result of taking this class.
One person wrote an article for their hospital physician's newsletter.
Someone finished writing an operating plan and strategic plan for their library.
Another attendee posted the "Values Study" on their library webpage and is currently redesigning the library webpage to include their newly drafted mission statement.
Because of gaining more confidence in negotiating one person did not accept the price the vendor quoted but suggested alternatives to their offer due to low usage. She added, "I sought the help of our purchasing director and we negotiated as a team with some vendors, others I negotiated on my own." She also now studies license agreements and requests changes of which most are granted.
If you find yourself motivated or interested in learning more about negotiating techniques, business concepts or proving your worth, please consider taking Running Your Hospital Library like a Business. It is being offered starting May 30, 2014. These sessions will be recorded and archived on the MAR website so you may review at you convenience. Contact Michelle Burda (mburda@pitt.edu) with any questions about the class.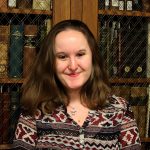 ABOUT Hannah Sinemus
Hannah Sinemus is the Web Experience Coordinator for the Middle Atlantic Region (MAR). Although she updates the MAR web pages, blog, newsletter and social media, Hannah is not the sole author of this content. If you have questions about a MARquee or MAReport posting, please contact the Middle Atlantic Region directly at nnlmmar@pitt.edu.
Email author View all posts by Hannah Sinemus