MAR Celebrates National Medical Librarians Month with MAR Wants to Make You a Star Contest
Posted by Hannah Sinemus on November 20th, 2014 Posted in: The MAReport
Tags: 2014 Issue 4
---
Sharing & Caring
Michelle Burda, Network and Advocacy Coordinator

October was National Medical Librarians Month.  To acknowledge all the good work our medical librarians do, we asked MAR members to share their accomplishments, community outreach programs, or any value-added service they offered at their organization/institution.  Entries were entered into a random drawing to receive airfare and registration for MLA 2015.  Eight of our members shared stories about their unique programming.  For example: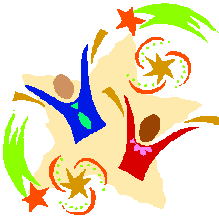 Scott Memorial Library, Thomas Jefferson University, hosted the NLM Harry Potter exhibit but with a slight twist.  A Jefferson employee, who has a passion for Renaissance medical history lectured on the topic, "How Magic Became Science."  She spoke at a reception for students, faculty, and staff.  A recording of the program is available on the Jefferson Digital Commons http://jdc.jefferson.edu/harrypotter/.
Trinitas Library launched a World Music Program last year.  After receiving a donation of 3 cases of world music CDs, and not knowing if or how this collection of music would fit into their medical library's collection, the boxes remained unopened.  Elisabeth Marrapodi, Director of Library Services, said there was a "light bulb moment."  Because music has shown potential to decrease the risk of hospital-induced delirium, their library created a music lending library to share and partner with the in-patient program, Hospital Elder Life Program (HELP).
To view all eight entries visit:  http://guides.nnlm.gov/contest2014
Announcing the 2014 Winner of the MAR Wants to Make You a Star Contest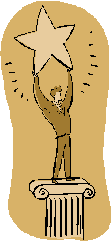 Excela Health Latrobe Hospital in Latrobe, PA:  Tweet with a Twist submitted by Marilyn L. Daniels, Manager of Library Services.  Marilyn will be receiving receive an award to cover registration and airfare to MLA 2015 in Austin, TX.
Here is what Marilyn shared with us…
"When Excela Health's intranet page was redesigned several years ago, a take-off of Twitter was added called "Excela Health-e-Tweeter."  Like the big blue bird itself, tweets of the EHWeb are limited to 140 characters.  They are used by selected staff to announce, promote and remind Excela Health employees of information they need to know.
As the Manager of Library Services, I am always looking for ways to promote the use of library services and resources, especially our e-resources.  Last fall, when I became a member of the Lifelong Learning Committee, one of nursing's Shared Governance committees, I found a way to support one of the committee's initiatives and encourage use of the library's Ovid Nursing Full Text Plus package.
The committee had been trying to use the e-Tweeter feature to routinely provide the nursing staff with information related to one of its three arms:  clinical, especially as it related to core measures, HCAHPS, etc., professionalism, and leadership.   I saw an opportunity to take those tweets from information contained in one of the journal articles from the Ovid package and add a link in that tweet, taking those interested to the article itself, where they could read more on the tweet topic.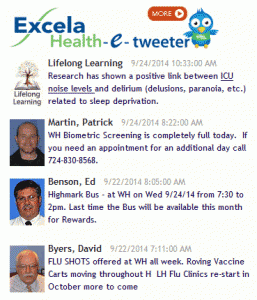 In November 2013, I began selecting relevant articles and writing the tweets.  In March 2014, I also assumed the responsibility for posting them weekly, using the Lifelong Learning logo.  I work with the committee chair, who reads and approves the tweets before they are posted, ensuring that the information contained is relevant at Excela Health.  Following the post, I add the citation information to one of Library Services' bibliographies pages.  That way those who are unable to click on the link while the tweet is posted still have an opportunity to read and/or print a PDF of the article since the citation title links them to the full-text article.
In May 2014, I developed a display around the Lifelong Learning tweet feature for the evening event held during National Nurse Week.  A "Tweet Bouncy Ball Contest" and a chance for giveaways caught the attention of attendees, providing me an opportunity to remind them of how the weekly tweet feature functions.  I was also able to use information provided in one of MAR's webinars about Wordle to create an eye-catching poster on all of the topics featured in the tweets thus far.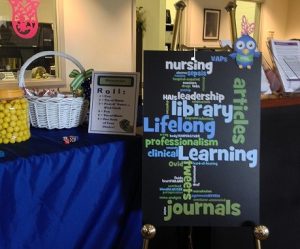 Currently, in conjunction with Excela Health's Vice President for Patient Experience and the committee, I am conducting a contest on the noise issue, an HCAHPS measure.  Each week the tweet is highlighting an article related to noise.  The contest entry form has one multiple-choice question from that article.  At the end of the four-week period, those participants with all four answers correct will be entered into a drawing for a grand prize and four runners-up prizes.
Taking an existing program and adding a library twist makes a winning combination for all involved, providing me with an opportunity to showcase a library resource, and build relationships for future projects.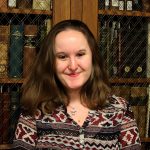 ABOUT Hannah Sinemus
Hannah Sinemus is the Web Experience Coordinator for the Middle Atlantic Region (MAR). Although she updates the MAR web pages, blog, newsletter and social media, Hannah is not the sole author of this content. If you have questions about a MARquee or MAReport posting, please contact the Middle Atlantic Region directly at nnlmmar@pitt.edu.
Email author View all posts by Hannah Sinemus