Healthful Help for the Homebound during Disasters
Posted by Hannah Sinemus on February 28th, 2015 Posted in: The MAReport
Tags: 2015 Issue 1
---
Member Spotlight
Valli Hoski, MSLS
Branch Manager
Littlestown Library
Littlestown, PA
My journey and passion for library service began with my beloved parents' strong commitment to reading and education.  Literacy and reading skills transform lives, uplift the spirits, and allow individuals to grow to their full potential.
My professional journey is as diverse as my academic degrees, in library and information science (University of North Texas) and instructional design (Specialist in Education, Indiana University) disciplines.   These two perspectives enable my unique, integrated view of how information serve, inform, educate, and illuminate the lives of today's diverse populations.
Today's library professionals share and teach information resources, services, and technologies very different from earlier traditional models.  Communities and individuals have higher service expectations, needs, and opportunities that exceed brick buildings and book-laden shelves.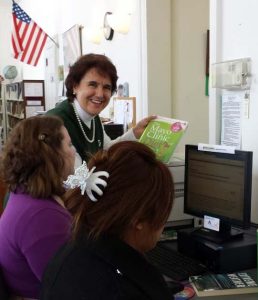 Valli Hoski demonstrating DIMRC and disaster prep books to patrons at New Oxford Area Library
Libraries can increase their visibility and value to the community during natural disasters and emergencies.  Our trusted relationship with the public, our outreach capability, and quick, accurate and focused answers to information needs – all are highly valuable assets during disasters and emergencies.
Libraries, health institutions, and emergency management agencies are natural partners with mutual benefits in co-planning disaster response and recovery.  The public library may serve as a key information access point for the community during disasters.  One intuitive library response is providing "virtual" or remote communications for the public and responder community.  With infrastructure and coordination among agencies, the library provides a single, effective public information center.  From "power centers" for device charging and use, to reliable, accessible computer and broadband connections, the library fulfills the need for "health and welfare" communication by the community.  The library services to "comfort" the public with resources to read, inform, entertain, and reassure individuals, families, and the community.  The concept of library as a "safe haven" is gaining recognition by emergency managers and agencies.
The Commonwealth of Pennsylvania includes metropolitan cities, Appalachian mountain towns, and valley communities.  Disaster response and recovery requires collaboration of emergency, health, and information services.  Adams County is primarily agricultural with a populous county seat (Gettysburg), many individual towns, and farms.  Local "homebound" population risks isolation and lack of services when weather or natural disasters strike.  How can libraries help protect and inform homebound community members, families, and caregivers?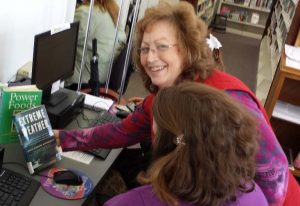 Wilma Krepps, Branch Manager of New Oxford Area Library, teaching patrons how to use DIMRC
The most effective, proactive response is to protect individuals "in place", rather than the library as "safe haven."  Relocation of the homebound individuals to libraries for healthcare or other services is risky and ineffective.  An individual emergency plan for each homebound person, with key medical/ health condition, contact information, and ready kit of "in place" resources is a more practical, readily available response.
With funding support from the National Network of Libraries of Medicine, Middle Atlantic Region (NN/LM MAR), two libraries within the Adams County Library System (ACLS) planned a "Healthful Help for the Homebound during Disasters" seminar and resource kit.  Families, caregivers, emergency services, and support members learn and share how to best protect the homebound community.  Together with library members, participants learn about NN/LM and DIMRC information resources for homebound care and response.  This builds awareness and collaboration in planning emergency response, preparing for "in place" refuge, healthcare, and essential services when a natural disaster occurs in the local community.  Together, the families and caregivers plan the "emergency response and in-place kit" for a homebound individual(s) in coordination with emergency responders and healthcare providers.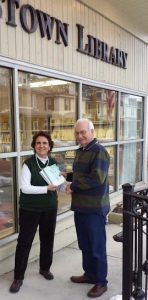 Valli Hoski providing health resources to a senior patron for the Littlestown Library workshop
A future project focuses on disaster / emergency service plans for each individual library.  Building on the "One Library, One Plan" initiative from other NN/LM projects, a disaster response plan is identified for each library's ongoing operations and "safe haven" services.  The main system library requires coordination, backup, and recovery of technology, infrastructure, and operations.  During a disaster, the individual branch libraries can provide increased value and service as a "safe haven" and information center location for their community.  With coordination and collaboration among emergency management, police, fire, and municipal agencies, libraries should be a priority resource for infrastructure and power recovery in the community's disaster plan.  The library's role / services as a community "safe haven" are an exciting, new, and essential component for local and county disaster response and recovery plans.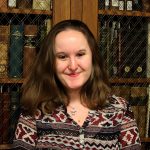 ABOUT Hannah Sinemus
Hannah Sinemus is the Web Experience Coordinator for the Middle Atlantic Region (MAR). Although she updates the MAR web pages, blog, newsletter and social media, Hannah is not the sole author of this content. If you have questions about a MARquee or MAReport posting, please contact the Middle Atlantic Region directly at nnlmmar@pitt.edu.
Email author View all posts by Hannah Sinemus