What Matters Most to Seniors?
Posted by Hannah Sinemus on February 28th, 2015 Posted in: The MAReport
Tags: 2015 Issue 1
---
Consumer Connections
Lydia Collins, Consumer Health Coordinator
According to the Centers for Disease Control and Prevention (CDC), medical advances in the 20th century working toward promoting health and wellness amongst older adults has increased the quality of life and assisted this population with adjusting their lifestyles.  "The wave of aging Baby Boomers will reshape the health care system forever.  There will be more people enjoying their later years, but they'll be managing more chronic conditions and therefore utilizing more health care services.  More than 37 million people in this group (60%) will manage more than one chronic condition by 2030" (American Hospital Association).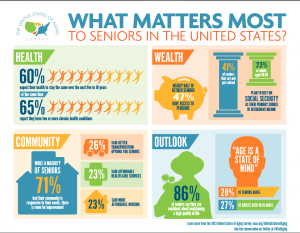 National Council on Aging Infographic (2013)
The need to address the specific health concerns of the aging population has even gained momentum with Healthy People 2020.  There is a new emphasis specifically for older adults, which outlines a national agenda to work on improving the quality of life for our aging populations, with emphasis on specific diseases such as diabetes mellitus, arthritis, congestive heart failure, and dementia.  To see a comprehensive listing of health issue pages for seniors, visit the seniors website in MedlinePlus.
There are numerous ways that libraries, as well as community-and faith-based organizations, can assist this growing population through access to resources, presentations and programming.  MedlinePlus, produced by the National Library of Medicine (NLM), provides health topic pages with access to reliable, up-to-date information at no cost on each of the topics listed above, and more.  It could be as simple as beginning a conversation with local agencies such as a senior center, Aging and Disability Resource Center (ADRC), American Association of Retired Persons (AARP), and even your Area Health Education Center (AHEC).  Try to see where you might partner and make a collaborative effort towards improving upon access to health care and health information to seniors in your community.
Opportunities to promote national health observances and a focus on outreach to seniors is another way to reach this population.  Examples can be found by using the Health Observances Slideshow that can on the MAR Public Libraries Guide, paying particular attention to March, May, and June.  Sometimes, it's as easy as making information available to members of your community, and peaking their curiosity.  If you're interested in taking a more proactive approach and offering programming specifically to seniors, the National Institute on Aging (NIA) can help.  They created NIHSeniorHealth in collaboration with NLM.
Use the NIA's site as well as NIHSeniorHealth to "locate a variety of research based information and resources related to health and aging."  The NIA site features different health topics throughout the year including
Caregiving
Doctor-Patient Communication
Healthy Aging and Longevity
Legal and Financial Planning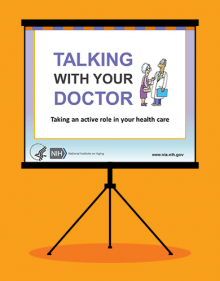 For those who are interested in providing health programming directed to seniors at libraries or other organizations, the NIA has created a new Talking with Your Doctor presentation toolkit.  This toolkit provides everything needed for a 45-minute workshop on doctor/patient communication.  Included is a PowerPoint slideshow and speaker's guide to provide attendees with an interactive program that will help older adults with practical tips on how to prepare for a medical appointment, sharing health concerns, and much more.  There are even presentation handouts and a checklist for speakers to prepare for the presentation.  The wonderful thing about this toolkit is that you don't need to have any training or health information expertise, and it is free and simple to use!
Are you interested in learning more about resources for seniors and health programming ideas?  MAR is offering the webinar "Active for Life:  Healthy Programming Resources for Seniors" Boost Box session on March 10th at Noon:  http://nnlm.gov/mar/training/boost_schedule.html.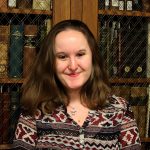 ABOUT Hannah Sinemus
Hannah Sinemus is the Web Experience Coordinator for the Middle Atlantic Region (MAR). Although she updates the MAR web pages, blog, newsletter and social media, Hannah is not the sole author of this content. If you have questions about a MARquee or MAReport posting, please contact the Middle Atlantic Region directly at nnlmmar@pitt.edu.
Email author View all posts by Hannah Sinemus