What I Listen to while on the Road for MAR
Posted by Hannah Sinemus on May 18th, 2015 Posted in: The MAReport
Tags: 2015 Issue 2
---
Out and About
Kate Flewelling, Outreach Coordinator
As Outreach Coordinator for MAR, I spend a lot of time on the road. One week in April, I drove 1200 miles—Pittsburgh to New York City to Long Branch, NJ, to Lake George, NY, and back to Pittsburgh. To make the long drives and flights go faster, I listen to audiobooks. Lately, I've been listening to several with a medical theme. Here are a few recent favorites, with links to some relevant health information resources.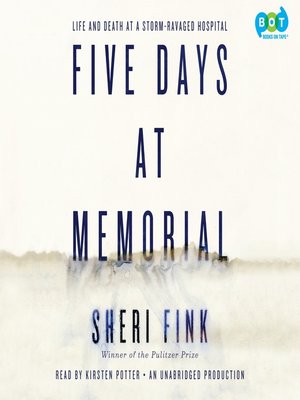 Fink, Sheri. Five Days at Memorial: Life and Death in a Storm-Ravaged Hospital. 2013. Narr. Kirsten Potter. Audio recording. Penguin Random House Audio Publishing Group, 2013.
Five Days at Memorial details the harrowing days of Hurricane Katrina and subsequent flooding at one hospital in New Orleans and subsequent investigations of 45 patient deaths. Besides being a gripping true-life story, the book brings up issues of medical ethics, disaster preparedness, privatization and consolidation of healthcare, and the role of the media in risk communication. The author, Dr. Sheri Fink will be the keynote speaker at the Pennsylvania Public Health Preparedness Summit in June, and I look forward to hearing more from her there.
Information Sources on Ethics in Disaster Medicine and Public Health: http://sis.nlm.nih.gov/dimrc/ethics.html
Belluck, Pam. Island Practice: Cobblestone Rash, Underground Tom, and Other Adventures of a Nantucket Doctor. 2012. Narr. Joe Barrett. Audio recording. Blackstone Audio, Inc., 2012.
This book describes the medical practice and life of Dr. Timothy Lepore, on the island of Nantucket, thirty miles off the coast of Massachusetts. Dr. Lepore is a rare breed—a surgeon who keeps a general practice and does house calls. He is also one of the world's experts on tick-borne diseases. The book details many of the difficulties of practicing medicine in a remote place where everyone knows everyone. One can also enjoy the book as a catalogue of all of Dr. Lepore's eccentricities, of which there are many.
Information on tick-borne diseases from MedlinePlus: http://www.nlm.nih.gov/medlineplus/tickbites.html
Gawande, Atul. Being Mortal: Medicine and What Matters in the End. 2014. Narr. Robert Petkoff. Audio recording. Macmillan Audio, 2014.
Before listening to this book, I had the pleasure of hearing Dr. Gawande speak at the American Academy of Hospice Medicine/Hospice and Palliative Nurses Association conference in February. Unlike the first two books on this list, Being Mortal does not discuss a unique setting or event. Everyone dies, and more often than ever, people are dying in institutional settings, rather than in their homes. Gawande writes about some of the reasons why that is the case and suggests some alternatives. The biggest take-away for me was the need for patients, family members and clinicians to have conversations early and often about what would be a "good" death and how to make the most out of life, however long that life may be.
Information on End-of-Life Issues from NIHSeniorHealth: http://nihseniorhealth.gov/endoflife/preparingfortheendoflife/01.html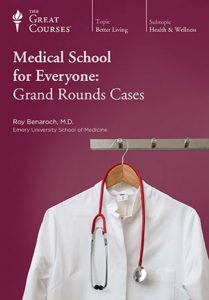 The Great Courses. Medical School for Everyone: Grand Rounds Cases. 2014. Narr: Roy Benaroch
This "book" is actually a series of 24 lectures, each about 30 minutes. Each lecture is delivered by Dr. Roy Benaroch and introduces a real-life patient case. By the end of the case study, the listener will learn the diagnosis of the patient, while also learning more about how doctors think, the differential diagnosis, types of medical tests, and treatments for various conditions. Woven into the lectures is good advice about talking to one's doctors and navigating the healthcare system.
NN/LM MAR Clinical Resources Guide: http://guides.nnlm.gov/mar_clinical
Looking for audiobooks for your next road-trip? I borrowed almost all of these from my public library through Overdrive. Unfortunately, Overdrive does not have access to the Great Courses, so I bought that one through Audible. No endorsement implied.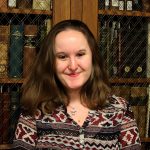 ABOUT Hannah Sinemus
Hannah Sinemus is the Web Experience Coordinator for the Middle Atlantic Region (MAR). Although she updates the MAR web pages, blog, newsletter and social media, Hannah is not the sole author of this content. If you have questions about a MARquee or MAReport posting, please contact the Middle Atlantic Region directly at nnlmmar@pitt.edu.
Email author View all posts by Hannah Sinemus