The Affordable Care Act: Access to Care – Libraries Making a Difference
Posted by Hannah Sinemus on May 22nd, 2015 Posted in: The MAReport
Tags: 2015 Issue 2
---
MAR Highlights
Renae Barger, Executive Director
In response to feedback from Network members, Special Advisory Groups and the Regional Advisory Committee, MAR identified a need for health sciences and public librarians to navigate the challenging landscape of the Affordable Care Act and identify areas where libraries may support their community and stakeholders. In April 2015, MAR sponsored a full day symposium, "The Affordable Care Act: Access to Care – Libraries Making a Difference." The event was held in Philadelphia with 63 attendees representing an equal mix of hospital, academic and public libraries from Delaware, New Jersey, New York and Pennsylvania, as well as a few participants from neighboring states. MAR provided travel support for 36 Network members to attend.
The morning featured speakers from the Centers for Medicare and Medicaid Services to address an overview and changes in the Affordable Care Act and Marketplace as well as provide insight for navigating new payment models. A brief talk on 'cyber hygiene' was followed by Francisca Goldsmith, author of "Libraries and the Affordable Care Act: Helping the Community Understand Health-care Options."    The afternoon program was all about partnerships; beginning with a presentation from the CMS Partner Relations Group, followed by presentations highlighting examples of library-ACA partnerships. The program was approved for 6 hours MLA CE.
Evaluation feedback has been positive, with nearly 90% indicating that information gained from the symposium will impact their work. MAR will be examining participant responses to determine if other ACA topics should be addressed in the current year.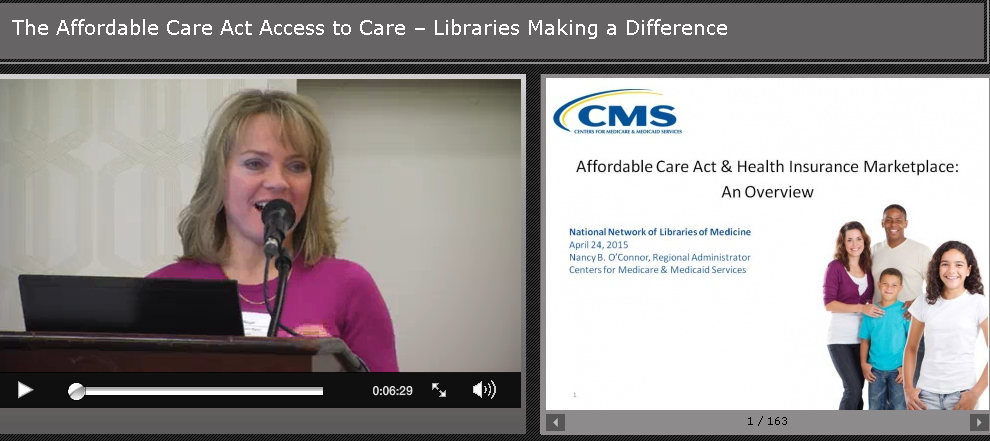 Speaker slides are available on our ACA Libguide and if you missed the symposium, MAR is offering on-demand viewing of the webcast! Registration is required to view. Those who watch the entire program may request 6 hours MLA CE.
We would like to express our gratitude to Cristina Pope and Upstate Health Science Library for managing the award to make this event possible. We are grateful to our planning group, led by Cristina, who worked very hard to identify speakers and topics:
 Carol Cave Davis / Jamaica Hospital Medical Center and Medisys Health Network
 Donna Gibson / Memorial Sloan Kettering Cancer Center
 Amy Haugh / UPMC St. Margaret's Hospital
 Cathay Keough / Delaware Division of Libraries
 Michelle Kraft / Cleveland Clinic Health Sciences Libraries
 Liz Morris / OCLC WebJunction
 Karen Parry / East Brunswick Public Library
 Cristina Pope / SUNY Upstate Medical University
 Terri Wheeler / Weill Cornell Medical College
 Barbara Epstein / NN/LM MAR
 Renae Barger / NN/LM MAR
 Michelle Burda / NN/LM MAR
 Lydia Collins / NN/LM MAR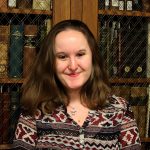 ABOUT Hannah Sinemus
Hannah Sinemus is the Web Experience Coordinator for the Middle Atlantic Region (MAR). Although she updates the MAR web pages, blog, newsletter and social media, Hannah is not the sole author of this content. If you have questions about a MARquee or MAReport posting, please contact the Middle Atlantic Region directly at nnlmmar@pitt.edu.
Email author View all posts by Hannah Sinemus