What's That You Say? MAR at ALA 2015
Posted by Hannah Sinemus on August 20th, 2015 Posted in: The MAReport
Tags: 2015 Issue 3
---
Consumer Connections
Lydia Collins, Consumer Health Coordinator
As many of you know MAR Coordinators are often on the road throughout our 4 State region exhibiting and presenting at conferences, providing training sessions at regional meetings and conducting site visits to old, potential and new network members. However, once in a while an opportunity to present at a national conference and represent the National Library of Medicine (NLM) outside of the Middle Atlantic Region occurs.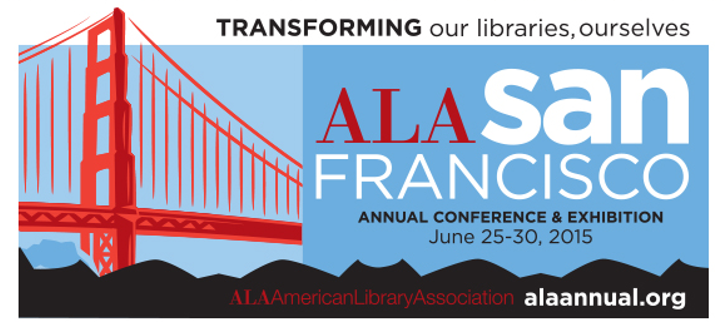 This summer I had the opportunity to travel to San Francisco, CA and provide three presentations at the American Library Association (ALA) 2015 Annual Conference. Preparation for these sessions began the year before when I had to submit presentation abstracts in hopes that at least one would be accepted. In thinking through the target populations that MAR focuses on, I decided that I should focus on reaching our school/youth library staff as well as our public library staff.
I carefully drafted two separate proposals that were an introduction to the NLM's K-12 resources for the American Association of School Librarians (AASL). After several years of providing presentations and trainings to library staff who provide outreach to K-12 populations in both school and public library settings, I realized that there were very different needs for resources based on the age ranges that they serve. The first presentation Encouraging Curiosity with NLM's Online Toy box: Health and Science Resources for K-5 Students focused specifically on material that are geared for K-5 students covering resources on general health, careers, environmental health and NLM's online exhibitions.
The second presentation for AASL Engaging, Encouraging and Enabling Middle and High School Students to Explore Health and Science from the National Library of Medicine was geared towards those who work with middle and high school aged students, similar topics were covered with the inclusion of genetics and emphasis on the numerous NLM online exhibitions that allow for interdisciplinary learning.
Attendees seemed to leave the sessions excited about new reliable resources that they could share with their educators and incorporate into their own library sessions. I was also fortunate to have Nancy Patterson, Community Outreach Coordinator from the NN/LM Southeastern/Atlantic Region in the audience for the K-5 session.
Perhaps the most exciting presentation because it was unexpected and so relevant, was when I was invited to join a panel of speakers focusing on public libraries and their role in health outreach within their communities. The presentation Public Health and Public Libraries: Librarians as Health Literacy First Responders was co-presented with Anita Kinney, Program Analyst, United States Access Board, Christian Minter, Nebraska/Education Coordinator, National Network of Libraries of Medicine, MidContinental Region and Carrie Banks, Supervising Librarian, Library Services for Children and Youth with Disabilities/Kidsmobile, Brooklyn Public Library. To see a room full of library staff and community agencies that are currently working on health outreach, or want to do more, gave me a renewed sense of purpose as I continue in my current position. Public libraries know their worth and continue to provide services based on need within their communities which includes health outreach. Public libraries are providing services around health by doing everything from answering a health related reference questions, hosting Affordable Care Act sign up events, conducting health fairs and even offering health programming at their libraries.
Christian began the session with a discussion of health literacy, health information seeking behaviors and how public libraries are well equipped to address health literacy issues. Anita followed by providing an introduction to public health and what it means for public libraries and the communities they serve. I then spoke about amazing work by public library staff that was funded by the National Network of Libraries of Medicine offices across the nation. Carrie ended the session by gathering the names of individuals who are interested in joining a future consumer health group being formed at ALA through the Association of Specialized & Cooperative Library Agencies (ASCLA). If you are an ALA member and also a member of ASLCA consider signing the petition to begin a brand new consumer health interest group. Be a part of the change that is coming so that your needs and interests can be served by the group. Carrie and I will serve as co-conveners for this group and are looking forward to bringing new programming around consumer health to libraries of all types via ASCLA.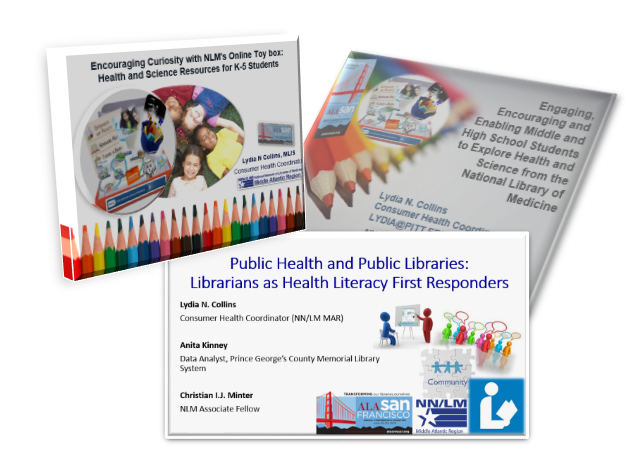 For those of you who were unable to attend ALA but are interested in the session, please know that an updated version of the session will be offered via OCLC WebJunction on October 21st, 2015. For more information about the upcoming webinar and to register visit the WebJunction registration page. It is my hope that this session was able to inspire more public library staff to continue or begin health outreach in their communities. Remember, as a MAR network member we're here to help you brainstorm ideas, connect you to resources, introduce you to potential partners and possibly even provide funding. MAR has a variety of resources available to you for use when conducting health outreach at your library, school, community or faith based organization.
For more information visit the following sites:
NN/LM MAR Presentations Page : Locate all ALA 2015 presentation slides
Public Health and Public Libraries: American Libraries article on the ALA presentation
NN/LM MAR Public Libraries Resource Guide: Includes a PPT with health observance slides and program ideas for each month of the year. Print and post on a traditional bulletin board or place the slide on your electronic bulletin board.
Public Health and Public Libraries: Librarians as Health Literacy First Responders (OCLC WebJunction): Register for the October 21st, 2015 webinar
ALA ASCLA Petition for Consumer Health Group: Sign the petition to begin the new group, however you must be a member of both ALA and ASCLA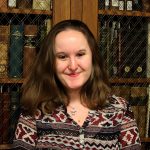 ABOUT Hannah Sinemus
Hannah Sinemus is the Web Experience Coordinator for the Middle Atlantic Region (MAR). Although she updates the MAR web pages, blog, newsletter and social media, Hannah is not the sole author of this content. If you have questions about a MARquee or MAReport posting, please contact the Middle Atlantic Region directly at nnlmmar@pitt.edu.
Email author View all posts by Hannah Sinemus