Health Promotion in Your Community: We've Got You Covered!
Posted by Hannah Sinemus on February 26th, 2016 Posted in: The MAReport
Tags: 2016 Issue 1
---
Consumer Connections
Lydia Collins, Consumer Health Coordinator
We are a few months into the New Year and many made resolutions around improving their health. There are some that are forging ahead with these New Year resolution plans and others that have already fallen by the way side. You have an opportunity to help to create a community of health at your library, school, or organization by promoting National Health Observances (NHOs). Even better news for you, is that the National Library of Medicine (NLM), National Institutes of Health (NIH), and the Middle Atlantic Region (MAR) are here to help.
As you know NHOs are special days, weeks or months that are devoted to increasing awareness about health and wellness issues. NHOs are generally sponsored by federal government agencies, professional associations or not for profit agencies. Conveniently, health observances remain the same from year to year and provide an opportunity to increase public awareness, and educate the general public about specific health concerns.
The NLM and MAR have some resources that you can use right away to promote NHOs to members of your community. MedlinePlus the premiere health and wellness resource produced by the NIH, NLM will often promote NHO's on the main page. NHOs are not just about advertising the observance, but also about educating communities about the effects of the various health conditions being featured.
NIH MedlinePlus, the magazine, is produced by NIH, NLM, and the Friends of the National Library of Medicine. This resource is available free of charge and libraries and organizations can request subscriptions to distribute. It's a great way to share with the community the research that scientists are doing to help cure disease, learn about how various conditions have affected a famous individual or their family member such as Benjamin King, Anthony Anderson, or Jennifer Esposito. The magazine also includes practical tips, health quizzes and an easy to read format that makes it suitable for individuals of all ages.
The NIH, part of the U.S. Department of Health and Human Services also produces a monthly newsletter NIH News in Health. Libraries and organizations are encouraged to reprint these newsletter articles in their own publications, as the material is not copyrighted. All you have to do is acknowledge NIH News in Health as the source and send them a copy so they know it's being used.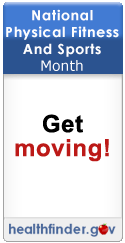 HealthFinder.gov has a selection of NHO web badges that you can copy and paste the code to add the badge to your web site, blog, or social networking profile. It's an easy way to promote NHOs and the available badges include, Alcohol Awareness Month (April), National Physical Fitness and Sports Month (May), UV Safety Month (May), National HIV Testing Day (June) and more.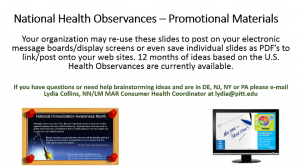 Lastly, MAR has created a PowerPoint slide that provides you with ready-made slides promoting a different NHO each month. If your library/organization has a presentation screen that is used to promote different events, resources and services then you can simply add the NHO slide. If your library uses traditional bulletin boards, then you can print the colorful and informative NHO slide of your choice and post it for your community members to see. Each slide gives a brief introduction to the NHO that is being observed and also a link to the MedlinePlus health topic page that they can refer to for additional information. Also included in the slideshow are an extra slide that gives ideas on extra activities and resources that you can use to increase awareness of the particular wellness issue promoted for each month.
So there you have it, MedlinePlus, the NIH MedlinePlus magazine, NIH News in Health, web badges from HealthFinder.gov, and the National Health Observances slideshow and ideas from MAR. You now have a toolkit of resources that you can use at your institution to help improve awareness and promote health issues in your community. Use the links below to begin using the freely available and reliable resources today.
MedlinePlus: https://www.nlm.nih.gov/medlineplus/
NIH MedlinePlus magazine (online): https://www.nlm.nih.gov/medlineplus/magazine/
NIH MedlinePlus magazine (bulk subscriptions): http://www.fnlm.org/program_medlineplus_subscribebulk.php
NIH MedlinePlus magazine (individual subscriptions): http://www.fnlm.org/program_medlineplus_subscribe.php
NIH News in Health: https://newsinhealth.nih.gov/
HealthFinder.gov NHO web badges: http://healthfinder.gov/nho/nhobadges.aspx
MAR National Health Observance PowerPoint (NHO Tab): http://guides.nnlm.gov/mar_public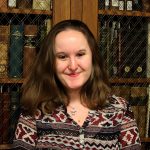 ABOUT Hannah Sinemus
Hannah Sinemus is the Web Experience Coordinator for the Middle Atlantic Region (MAR). Although she updates the MAR web pages, blog, newsletter and social media, Hannah is not the sole author of this content. If you have questions about a MARquee or MAReport posting, please contact the Middle Atlantic Region directly at nnlmmar@pitt.edu.
Email author View all posts by Hannah Sinemus