Register for Teaching and Learning in New Spaces: The Changing Landscape of Health Sciences Libraries
Posted by Hannah Sinemus on February 29th, 2016 Posted in: The MAReport
Tags: 2016 Issue 1
---
Director's Musings
Barbara Epstein, Director
As a final educational event of our 2011-2016 NN/LM contract, MAR is joining with the NN/LM Southeastern/Atlantic Region (SE/A) and the Association of Academic Health Sciences Libraries (AAHSL) to co-sponsor an intriguing symposium addressing the questions that we all have about what libraries may look like in the future. Join us at the Sonesta Hotel in Philadelphia on Monday, April 18, 2016.
The day will start with a discussion of findings from the Association of American Medical Colleges (AAMC) strategic forecast for academic medicine.  This will be followed by a panel who will envision new teaching and learning spaces for libraries based on the AAMC report. Panelists include an architect, a medical educator, a campus space planner, a healthcare administrator, and an ethnographer. In the afternoon, we'll learn about design trends, and how library leaders converted space reductions into opportunities for new partnerships and programming. Do you have a space-related project to share? Then consider submitting a proposal for a five-minute lightning talk at the end of the day.
The planning committee includes representatives from AAHSL, MAR and SE/A, including Renae Barger (NN/LM MAR), Judy Consales (UCLA), Pam Bradigan (Ohio State), Julia Sollenberger (University of Rochester), Cynthia Robinson (Penn State), M.J. Tooey (NN/LM SE/A), Dale Prince (NN/LM SE/A), and Barbara Epstein (NN/LM MAR).
There is no registration fee to attend, but we are nearly at capacity, so don't delay! Travel stipends may be available for MAR members and lightning talk presenters. For more information, view the symposium website at http://guides.nnlm.gov/mar_space2016.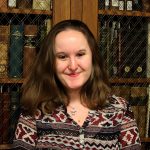 ABOUT Hannah Sinemus
Hannah Sinemus is the Web Experience Coordinator for the Middle Atlantic Region (MAR). Although she updates the MAR web pages, blog, newsletter and social media, Hannah is not the sole author of this content. If you have questions about a MARquee or MAReport posting, please contact the Middle Atlantic Region directly at nnlmmar@pitt.edu.
Email author View all posts by Hannah Sinemus