Member Spotlight: Laraine Tursi
Posted by Hannah Sinemus on May 31st, 2016 Posted in: The MAReport
Tags: 2016 Issue 2
---
Laraine Tursi
Director, Harold Fink Memorial Library
Coney Island Hospital
I am Laraine Tursi and have been the librarian at NYC Health + Hospitals/Coney Island, in Brooklyn for the past 10 years and a librarian for 30+ years, which is unbelievable to me! Throughout the course of my library career, MAR has been an integral partner, training resource and support network for me and the various libraries where I have worked.
As a Pratt graduate with my new MLS degree, my first job was at St. John's Episcopal Hospital, in Bedford Stuyvesant, Brooklyn. I began my career using the giant volumes of Index Medicus and searched our subjects using Boolean operators in our heads, opening multiple volumes at a time for cross referencing- great for weight training! Back then, DOCLINE was typed on forms and then mailed to consortia member libraries. I was treasurer of the newly formed BQSI, Brooklyn, Queens and Staten Island Health Sciences Librarians, now celebrating the 40th anniversary. The only libraries that had computers back then were universities and regional libraries.
I left the hospital library world in 1979 for approximately ten years to start my family. When I came back to work in 1989, at Bayley Seton Hospital in Staten Island, it was total culture shock. Every hospital library had a DOS based computer with dial up internet. We had to search microfiche for journal holdings of member libraries to place DOCLINE requests and attend 3 day training programs to learn how to use Medline/Medlars. We learned all about tree structures, MESH headings, it was enough to make you cry and I did. But with the help of MAR, BQSI and METRO (Metropolitan New York Library Council) and good deal of hand holding and training classes, I overcame the technology gap. It is through grants, training and support that MAR has brought our field of Hospital Librarianship into the future.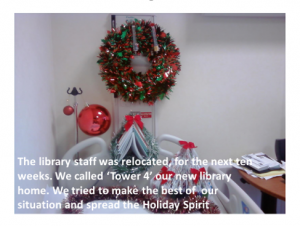 MAR continues to provide online support, training, grants and help with any PubMed or DOCLINE issues. These past 5 years, since the University of Pittsburgh has been our NN/LM regional medical library, I have had many opportunities and reasons to call on MAR for support. We are especially grateful to them after Hurricane Sandy stormed through Coney Island Hospital. Thankfully my library/collection was not damaged, our library was on the second floor but there was no electricity, heat or facilities in the hospital's main building for almost 3 months. We were set up in a hospital room in the Tower Wing while repairs were ongoing. We were able to get two of our library computers and set up a little library in the hospital room during the interim. We still had students and residents who needed articles and library resources. MAR came to the rescue and put our library on hold as a DOCLINE lending library, offered back-up, and allowed us to borrow so we could maintain some of our library services to staff. That meant a lot to us.
The University of Pittsburgh has brought new innovations to MAR and has expanded its outreach. Within the last few years I have attended and found the following classes very helpful and inspirational:'Super Searcher: Enhancing Your Online Search Super Powers' and 'Mapping an Outreach Project.' Coincidentally, after the Mapping an Outreach Project class, I attended a product demonstration for the Sharp 703B Smartboard in February 2015. I was hooked. It was an amazing piece of technology and I wanted it for my library. Now I had the product I wanted, the skills to map an outreach project and a funding announcement from MAR.
With the blessings of our Administration and support of the Medical Education Committee, in March 2015, I began the process of writing the proposal for the NN/LM MAR technology award. My project's title was, 'Smartboard –Interactive Display System Library Resource Outreach.' Needless to say with all the training and resources I had acquired, we were successful and got the MAR funding for my library to purchase our portable 70 inch Smartboard!
My outreach project began in earnest the fall of 2015. During this past academic year the library has made many presentations to a variety of departments using the Smartboard. We also played a supportive role in the success of our new Dental Residency program. We have lent out our Smartboard to different departments, even today the Tumor Board has requested the use of our Smartboard for their weekly meetings. We were very pleased when our Nurse Educators reached out to us to present a library in-service training for our nurses. As a result, the library has totally stepped out of our "hallowed walls" and has been active in promoting and providing training for PubMed and our library resources. By using the Smartboard and being creative with new technology, the library has been a "trend setter" in the hospital and for that, I am thankful for all the education and funding opportunities that MAR has given us!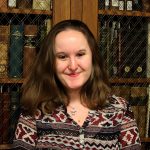 ABOUT Hannah Sinemus
Hannah Sinemus is the Web Experience Coordinator for the Middle Atlantic Region (MAR). Although she updates the MAR web pages, blog, newsletter and social media, Hannah is not the sole author of this content. If you have questions about a MARquee or MAReport posting, please contact the Middle Atlantic Region directly at nnlmmar@pitt.edu.
Email author View all posts by Hannah Sinemus