Summer Professional Development and Project Planning
Posted by Hannah Sinemus on May 31st, 2016 Posted in: The MAReport
Tags: 2016 Issue 2
---
Academic Outreach
Elaina Vitale, Academic Coordinator
While most academic medical librarians work throughout the summer, for many, summer is a chance to take a break from committee work, information literacy trainings and overwhelming reference hours. While classes are not in session, librarians can take advantage of quieter libraries by enrolling in classes and workshops themselves (think of it as extra credit for the looming fall semester!).
This summer, brush up on PubMed, get better familiarized with the ins and outs of data management at a conference, or apply for MAR funding (being announced very soon) for a project you are planning. I'll be dreaming of the beach in landlocked Pittsburgh, but until I can get there I have a busy summer of trainings, workshops and conferences planned!
Our colleagues in the Regional Medical Libraries of NN/LM have some exciting course offerings this summer—take the four-part Moodle "Nursing on the Net," or "Public Health Information on the Web." Set aside some time each week to take the six hour-long PubMed trainings offered by the National Training Office. Check MAR's own offerings here. Are there classes MAR isn't offering that you'd like to see for academic librarians? Send me your suggestions!
Of course, another great way to get involved is by attending workshops and conferences. Some upcoming June conferences of relevance to academic health sciences librarians include SLA conveniently for MAR members, in Philadelphia, ALA Annual in Orlando and the Empire State Library Network's Academic Librarian Conference in Syracuse. In Philadelphia this September, there is a great line up for the Tri-Chapter Meeting, "L3: Librarians, Leadership and Learning."
If you are at ALA on June 27th, stop by Lydia Collin's, MAR Consumer Health Coordinator, presentation, 'From Beyond Our Borders: Reliable Multilingual and Multicultural Consumer Health Resources." Renae Barger, MAR Executive Director, will be providing an update at the Tri-Chapter meeting. I am looking forward to attending the Empire State Library Network's Academic Librarian Conference and would be happy to schedule a time to meet with you during this conference.
NN/LM MAR is also gearing up to announce our next round of funding opportunities. Are there health information literacy projects you would like to implement at your institution and could use some funds to get started? We can help you lay the groundwork for some of these projects by helping with project ideas and financial awards. In addition to our other yearly awards, MAR is now offering a new outreach award for academic librarians, with a special focus on those working in community colleges and smaller settings with two and four-year degree health programs. This award is intended to promote access to high quality health information for future professionals. Projects will utilize and promote National Library of Medicine resources such as PubMed, MedlinePlus, HealthReach, NIHSeniorHealth, Genetics Home Reference, Drug Information Portal, AIDSource, ClinicalTrials.gov, DailyMed, Disaster Information, and Environmental Health and Toxicology Information. Potential projects may include developing an information literacy program for nursing students, integrating health education resources as part of your institution's clinical rotations, or partnering with your university health center to sponsor health information programs. Contact me to discuss project ideas! This is a great chance to get a little extra money that will go a long way towards justifying larger projects or goals.
Lastly: I'm new around here! I am MAR's new Academic Coordinator, and I'll be working to promote and provide access to NLM resources for librarians, faculty and staff at academic institutions. I'm going to be initially focusing my efforts on academic librarians, with an emphasis on those at community colleges and colleges supporting two and four-year health programs, and am currently working on a MAR training to be unveiled this fall. I love outreach and teaching, and am excited to work with constituents in our region. Outside of work, I am wild about dogs, walking in the cemetery near my house, and saying "there's a better source for that than Wikipedia" in casual conversation.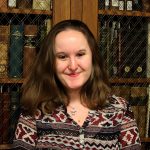 ABOUT Hannah Sinemus
Hannah Sinemus is the Web Experience Coordinator for the Middle Atlantic Region (MAR). Although she updates the MAR web pages, blog, newsletter and social media, Hannah is not the sole author of this content. If you have questions about a MARquee or MAReport posting, please contact the Middle Atlantic Region directly at nnlmmar@pitt.edu.
Email author View all posts by Hannah Sinemus