Videos and PowerPoints Now Available from Symposium on Library Spaces
Posted by Hannah Sinemus on May 31st, 2016 Posted in: The MAReport
Tags: 2016 Issue 2
---
Director's Musings
Barbara Epstein, Director
Did you miss our April symposium on Teaching and Learning in New Library Spaces: The changing landscape of health sciences libraries? Or, if you were there, do you want to review your favorite presentations? If so, your worries are over: we're pleased to announce that videotapes, PowerPoint presentations and other resources are now available for viewing at: http://nnlm.gov/mar/spacesymposium.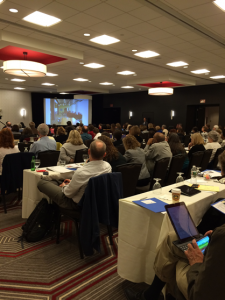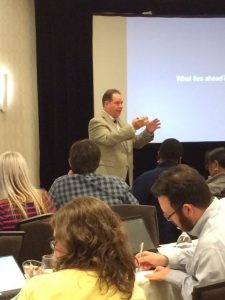 The symposium on April 18 in Philadelphia attracted 140 attendees from 29 states. The program began with a keynote address by Dr. William Mallon, Senior Director of Strategy and Innovation Development at the Association of American Medical Colleges (AAMC). Dr. Mallon described findings from the AAMC strategic forecast for academic medicine, and then challenged the audience to work in small groups to develop their own ideas about the future. This was followed by a panel of experts from various disciplines – health care administration, medical education, ethnography, architecture, and campus planning – who envisioned new teaching and learning spaces for libraries, based on the AAMC report.
The afternoon brought a presentation on design trends in academic libraries, and how even modest changes can make a big impact. A panel titled "Reducing the Footprint, Expanding the Neighborhood" featured a discussion by library leaders about their experiences in converting space reductions into opportunities for new partnerships and programming. The day concluded with contributed lightning talks by librarians who shared their renovation experiences with a focus on practical examples, best practices and lessons learned.
About 77% of symposium attendees returned the online evaluation. Nearly all agreed that the symposium met their expectations (95%), anticipated that they were likely to use the information gained in the next six months (94%), and will make a difference in how they plan to move forward in their library (94%). Some representative comments:
"The combination of professionals presenting and attending was impressive. Sometimes we just need a solid, structured time to bounce ideas around with like-minded people."
"I thought the symposium was excellent. I liked having a variety of speakers, representing different perspectives on library spaces."
"Just so relevant and at the perfect time for my institution, so much so that institutional planners came along with me."
Stay tuned for future in-person and virtual MAR programs!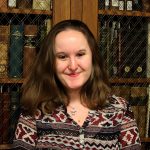 ABOUT Hannah Sinemus
Hannah Sinemus is the Web Experience Coordinator for the Middle Atlantic Region (MAR). Although she updates the MAR web pages, blog, newsletter and social media, Hannah is not the sole author of this content. If you have questions about a MARquee or MAReport posting, please contact the Middle Atlantic Region directly at nnlmmar@pitt.edu.
Email author View all posts by Hannah Sinemus