Member Spotlight: Anja Bouchard
Posted by Hannah Sinemus on August 29th, 2016 Posted in: The MAReport
Tags: 2016 Issue 3
---
Anja Bouchard, MLIS
Librarian, Clinton Essex Franklin Library System
Plattsburgh, NY
Although my career path has taken many different turns, there were early signs pointing toward a future in librarianship. Not only did I have a love of reading at a young age, but I always looked forward to spending time at a local public library with my mother during summer vacations. Later on, I had the good fortune of working as a student assistant at two academic libraries while earning degrees in psychology and medical laboratory technology. However, it was only after employment in the field of human services and the pharmaceutical industry for a number of years that I finally found my way back to the library.
Although I had previously completed a graduate degree with a concentration in leadership and administration, fond memories of my time in libraries inspired me to undertake a new adventure and pursue a Master of Science in Library and Information Science at Drexel University. The diversity of my professional experience has enabled me to truly appreciate the concept of public libraries as the "great equalizers" and community hubs that respond to the changing needs of their patrons.
As a librarian in the Technical Services Department at the Clinton Essex Franklin Library System (CEFLS), I am primarily responsible for cataloging, interlibrary loan, training, website development, authoring LibGuides, and serving as a consultant to some of our member libraries. In my role as a consultant, I have the opportunity to see many ways in which libraries can customize their services to meet the needs in their communities. However, this can be challenging for libraries in rural areas, particularly for those with limited staffing and resources. Therefore, it is very rewarding to be part of a System that can support their efforts and offer the benefit of cost-effective resource sharing.
In addition to traditional services, CEFLS continuously seeks to identify and address emerging needs in our service area. One focus has been to ensure that area residents have access to high quality consumer health information. This is particularly important given the large volume of unreliable information available on the internet. As the National Network of Libraries of Medicine, Middle Atlantic Region (NN/LM MAR) liaison, I have found this organization to be instrumental in ensuring that our System has access to accurate and current health information. They have conducted several on-site training sessions at CEFLS and many NN/LM and NLM resources arefeatured in our LibGuides.
Funding support from NN/LM MAR also enabled our System to explore the topic of emergency preparedness. CEFLS recognizes that it is critical for library staff to think about and plan for emergencies on multiple levels because information is vital to effectively prepare for, react to, and recover from disasters. With staff expertise in finding and communicating information, public libraries can serve as a hub for emergency preparedness activities. This is particularly important in our geographic area due to the mountainous terrain, flooding risks, and potential for harsh winters. In fulfillment of one of the goals of our grant, the thirty libraries and three reading centers in our System had the opportunity to participate in a workshop on emergency planning provided by MAR. Participants learned about the ten steps to service continuity and the role of libraries as disaster-planning and response partners. In addition, attendees received guidance on writing emergency plans, templates to develop their plans, and a binder to store all of the emergency information.
The second goal of our project was to educate system residents about the importance of disaster preparedness and to provide practical information to help them prepare for emergency situations. In our experience, patrons do not tend to peruse handouts on emergency preparedness. As the Project Coordinator, I was very excited to be involved in a plan to engage their interest in this important topic by creating an interactive learning presentation that incorporates games, videos, and web resources. The information is accessed using a tablet mounted on a stand that displays a striking graphic panel. CEFLS is currently rotating the tablet displays throughout the System.
In the future, CEFLS hopes to take this project to the next level by collaborating with local organizations to offer a series of workshops related to emergency preparedness. By promoting a culture of preparedness, we hope
to help develop community resilience and minimize the impact of an emergency event.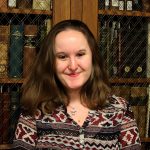 ABOUT Hannah Sinemus
Hannah Sinemus is the Web Experience Coordinator for the Middle Atlantic Region (MAR). Although she updates the MAR web pages, blog, newsletter and social media, Hannah is not the sole author of this content. If you have questions about a MARquee or MAReport posting, please contact the Middle Atlantic Region directly at nnlmmar@pitt.edu.
Email author View all posts by Hannah Sinemus