Helping Move PA Forward: As Libraries Reach for the Stars
Posted by Hannah Sinemus on November 22nd, 2016 Posted in: The MAReport
Tags: 2016 Issue 4
---
Consumer Connections
Lydia Collins, Consumer Health Coordinator
One of the most rewarding aspects of being a coordinator at NN/LM MAR is the opportunity to work with the amazing library staff in our region. During annual state library conferences, MAR staff exhibit and often offer workshops or conference presentations. This gives us a chance to meet many of those who have attended our online classes/webinars. We also get to reconnect with library staff whom we have worked with on MAR funded projects, as well as recruit new libraries to the MAR network.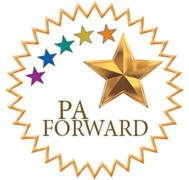 In October, I attended, presented and exhibited at the Pennsylvania State Library Association's (PaLA) annual conference in Pocono Manor, PA. This was an exciting year at PaLA as they unveiled several new key ideas to help libraries of all types increase public awareness of the work that they do through their PA Forward initiative. What is PA Forward you ask? PA Forward is a platform that libraries of all types across the state can use to promote the services they provide to their communities. Libraries focus on improving the quality of life for all Pennsylvanians with targeted programs and services that relate to Basic Literacy, Information Literacy, Civic and Social Literacy, Health Literacy, and Financial Literacy.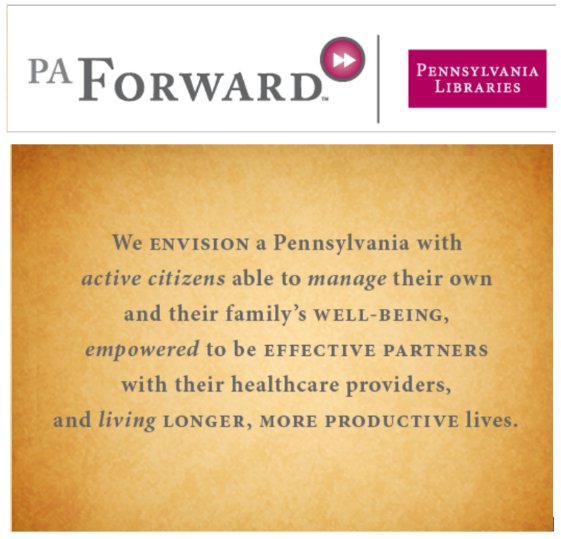 MAR has been fortunate to work with the Health Literacy Team at PA Forward over the past five years. PA Forward has sponsored several MAR conference sessions, partnered on outreach projects, and continually works together to provide awareness of National Library of Medicine (NLM) resources to all types of libraries throughout the state.
Although our main focus is on health literacy, we know that the 5 literacies are well intertwined. Basic literacy is needed to read through health information. It is necessary to have information literacy skills to access many of NLM's resources. Financial literacy is critical as individuals must think about how to pay for and read through billing materials for medical services. Lastly, civic and social literacy incorporates the core idea of libraries helping to build healthier communities. The PA Forward 21st Century initiative encompasses the basic essence of what libraries do for their communities. PA Forward focuses on keeping libraries visible and gives a name that is consistent across academic, medical, public, school, and special libraries.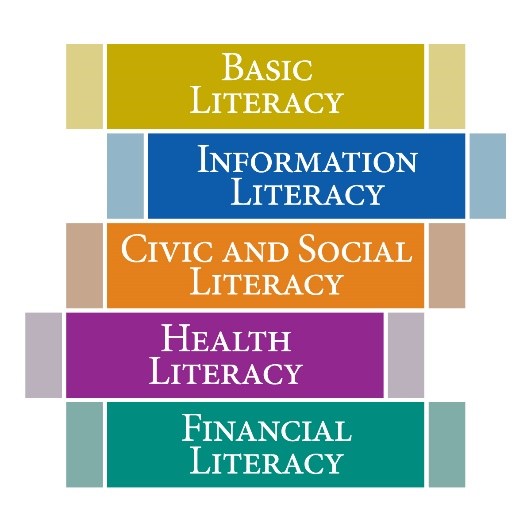 "The PA Forward Star Library Program" showcases and recognizes libraries that incorporate PA Forward and the five key literacies into their programming activities, displays and events. The program celebrates the success of PA Forward libraries and their abilities to create new partnerships, develop broader community support, and ultimately establish influence and credibility as a unified, collective, powerful voice for the benefit of all libraries" (PA Forward web site). MAR will continue to work with PA Libraries to provide access to resources that can be incorporated in to health literacy activities. This is beneficial to all libraries in the Middle Atlantic Region as new content becomes relevant to the work that is done around health promotion and awareness in relation to programming and mapping to resources.
Libraries across PA are already engaged in friendly competition to see who can earn their bronze, silver and gold stars. PaLA has provided training materials and resources to help libraries of all sizes be successful earning their stars. It is important to emphasize that libraries are already providing the service and access to resources to earn their stars, they now just need to brand it as PA Forward to help community leaders and members know that they are involved in something bigger than just their library. As they say, there is strength in numbers and libraries have to work hard to self-advocate and maintain funding. MAR will be here to support those who provide activities around health literacy and will continue to do what we can to help libraries as they reach for the stars.
Remember, if you are in the Middle Atlantic Region, MAR is here to help with your health outreach efforts, let us know what we can do and please keep us informed of the activities happening at your library, we enjoy hearing from you.
For more information on PA Forward and the statewide STAR library program please visit the following web sites: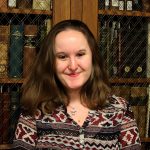 ABOUT Hannah Sinemus
Hannah Sinemus is the Web Experience Coordinator for the Middle Atlantic Region (MAR). Although she updates the MAR web pages, blog, newsletter and social media, Hannah is not the sole author of this content. If you have questions about a MARquee or MAReport posting, please contact the Middle Atlantic Region directly at nnlmmar@pitt.edu.
Email author View all posts by Hannah Sinemus