Meet MAR's Technology Liaison
Posted by Hannah Sinemus on November 22nd, 2016 Posted in: The MAReport
Tags: 2016 Issue 4
---
Behind the Scenes

Hannah Sinemus, Technology Liaison
When I joined the Middle Atlantic Region (MAR) in early May of this year, I was a little unsure of what to expect. I had been working at the University of Pittsburgh's Health Sciences Library System (HSLS) for almost two years, primarily at the Technology Help Desk where I assisted patrons with their technology needs, answering questions, checking out study rooms and equipment, and other basic, public service tasks. In my off-desk hours I was researching and making recommendations for other projects in our department, hiring and training student employees, and trying to make connections in my field.
I had finally reached the point where I was comfortable in every aspect of my position, and more importantly, I really enjoyed my job. It's no secret that contentment in the workplace is a rarity, and even more painfully obvious if you are watching all of your friends, family members, and co-workers struggling to find the right balance between professional and personal success. So, when I was approached by my (now) Director and Executive Directors about the possibility of a split position with the National Network of Libraries of Medicine, Middle Atlantic Region (NNLM MAR) and the NNLM Web Services Office (NWSO), it was an exciting, but complicated proposition.
I knew that the HSLS served as a Regional Medical Library, and I had worked briefly alongside some of the MAR staff, but at that point I was not quite sure what it meant to be a part of MAR. In the Spring of this year, HSLS was also awarded a 5-year grant to house the NNLM Web Services Office (NWSO), which required the entire HSLS Digital Library Services (DLS) department to assist in moving all that is nnlm.gov and its associated technologies to Pittsburgh. In between small projects for NWSO and my regular duties, I read about the Network and found myself utterly amazed at the work that was happening just 50 feet away from me, and all across the country. I thought to myself, these coordinators have so many accomplishments in outreach and public service, they must be super-human! What could I possibly do to measure up? Would my presence even make a dent in the incredible work this organization is doing?
I also considered what it would mean to move on from a comfortable place for the chance to do something new, and the endless positive and negative possibilities of changing course. My (then) supervisor gave me some perspective on the career opportunity that was in front of me. I had never done this kind of work in a professional setting, but it was a step in the right direction for someone who ultimately wants to stay in the library field. It was her confidence (and that of my Director and EDs) that I could be successful at this if it was something I wanted, which finalized my decision. I was taking a leap into the unknown.
It is hard to believe that seven months have passed, and difficult to imagine myself happier in my professional life than I am today. Every week is a new adventure in the realms of a Technology Liaison. I am learning about the many ways we can use our website and social media not just to share, but to promote reliable resources that actually help people obtain information relevant to their health. I am discovering that the infrastructure we provide for internet-based activities makes a monumental difference in the quality and accessibility of resources that I didn't even know existed seven months ago. And I am fortunate to be working with an amazing group of people, on both sides of the spectrum. Each of the MAR coordinators offers a valuable and unique perspective on the services and assistance that we are providing to libraries, hospitals, universities, communities, and individuals. I am continually impressed at the lengths they will go to in their projects and travels if it means even one library or community center will benefit from their effort.
I am equally impressed by the Network collective, as we have come together in the last year to not only move the entire support system for our web presence across the country, but that our Web Services Office (myself included) has been able to develop an entirely new website for NNLM, in conjunction with technology support professionals throughout the regions and national offices. This new product will revolutionize the way we communicate with our Network members, and give individuals more opportunities and spaces to communicate with us. In addition to a new look and mobile-responsive design, NNLM members will be able to:
create user accounts to register for classes and update their membership information
easily find Member organizations by name, region, state,  city, county or organization type
view funding opportunities available across the country
review past-funded projects for inspiration in their own funding applications
You can explore these, and many other new features by visiting our website on December 6th.
At our current level of technological metamorphosis, I can only imagine what new horizons 2017 has in store. It makes me think fondly of the scene from The Wizard of Oz, when Dorothy finds herself in Munchkin Land: "Toto, I've a feeling we're not in Kansas anymore."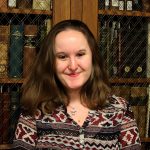 ABOUT Hannah Sinemus
Hannah Sinemus is the Web Experience Coordinator for the Middle Atlantic Region (MAR). Although she updates the MAR web pages, blog, newsletter and social media, Hannah is not the sole author of this content. If you have questions about a MARquee or MAReport posting, please contact the Middle Atlantic Region directly at nnlmmar@pitt.edu.
Email author View all posts by Hannah Sinemus