NN/LM MAR Celebrated National Librarians Month with the Health Literacy Hero Award
Posted by Hannah Sinemus on November 23rd, 2016 Posted in: The MAReport
Tags: 2016 Issue 4
---
Sharing & Caring
Michelle Burda, Education & Health Literacy Coordinator
This year MAR celebrated National Medical Librarians Month AND Health Literacy Month by awarding a Health Literacy Hero with a professional development award of $1,500.00. We asked our MAR members from hospital or academic medical libraries to send us their stories highlighting programs, partnerships or accomplishments that demonstrate how they are a Health Literacy Hero!
We are pleased to announce Rosemarie Taylor, Manager of Library Services from Wilkes–Barre General Hospital, Wilkes- Barre, PA as the winner of our Health Literacy Heroes Award promoting health literacy in her organization. As you read about her involvement in her organization you will understand why she is our Health Literacy Hero for 2016.
Wilkes-Barre General Hospital recently began a Failure Mode and Effects Analysis (FMEA) focusing on Health Literacy (HL) as a patient risk.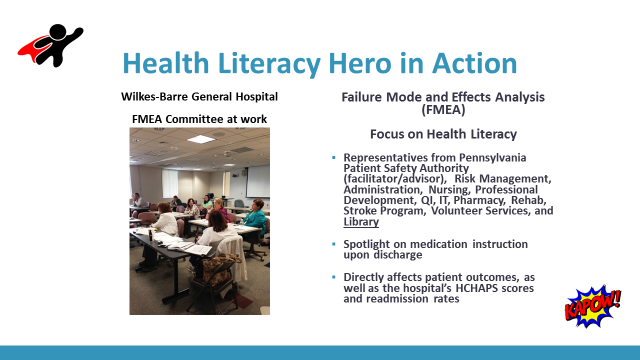 Failure Mode and Effects Analysis (FMEA) is a proactive risk assessment to determine how things might fail and what might be the causes of that failure. The Joint Commission requires hospitals to do at least one proactive assessment each year. More information about implementing these requirements is located at: Mentor Health. The requirements are quite specific about the process. Hospitals are expected to redesign a processes utilizing the findings of the assessment and maintain the redesigned process over time.
Wilkes-Barre General Hospital's ultimate goal is to improve the patient discharge process using tools from AHRQ, including the teach-back method, which has been documented to improve patient compliance, reduce readmissions, and reduce health care costs.
Rosemarie said, "How Health Literacy became the topic of our FMEA is a story of all the stars aligning. I asked Sandra Rochon, one of our nursing educators, to help me with the CME program for the medical staff. It was perfect timing since she and Joan DeRocco-DeLessio, our Risk Manager, and a few others had just come back from a day long training on Health Literacy conducted by members of the Pennsylvania Patient Safety Authority. Added to that was the need to conduct a FMEA. The process fell into place. Joan met with me and Sandy to plan the project. We had to determine how we could focus Health Literacy into the FMEA process, since it is such a broad subject. We decided to concentrate on patient medication instruction at time of discharge. We also decided who should be included on the committee. Sandy was selected as the facilitator.  As the librarian, I'm the 'subject specialist' on Health Literacy and I'm now a full member of the FMEA committee."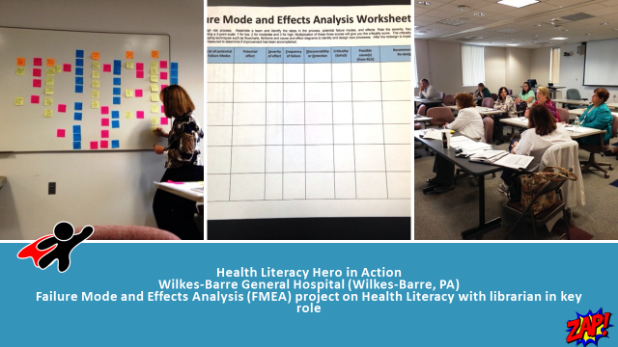 "Although we're not finished with the FMEA, we've set ground rules about focusing on the process, not people; encouraging everyone to contribute; and detailing the general rules of brainstorming. We're almost completed with the mapping where we charted the steps in the process and identified potholes along the way. We established a 'parking lot' for issues considered to be related, but not germane to the process. These will be revisited. At our next meeting we will begin the hazard matrix where we will rate the potential failure of the steps in the process on their severity, frequency, and discoverability/detection."
Rosemarie will be able to use her award to pursue professional development opportunities.  Funding can be used to cover costs of professional development courses/conferences such as registration or speaker fees and travel expenses (airfare, hotel, per diem, etc.).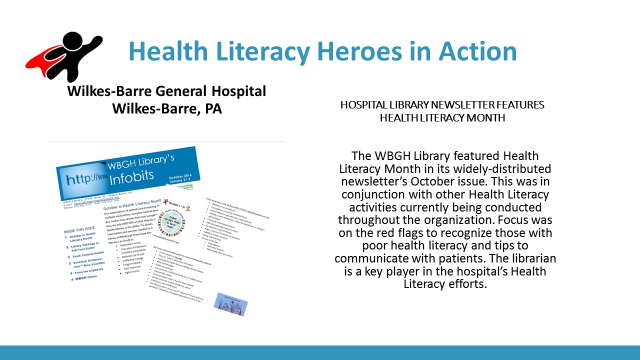 Please join me in congratulating our colleague, Rosemarie Taylor in her effort to make health literacy an important part of their organization. To learn more about Rosemarie's project you can contact her at RTaylor@commonwealthhealth.net and if you want to learn more on how you can raise health literacy  awareness at your institution contact Michelle Burda, Education and Health Literacy Coordinator, mburda@pitt.edu.  Michelle can also adapt her class, Health Literacy & its Importance to You to meet your institution's needs.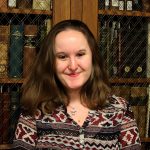 ABOUT Hannah Sinemus
Hannah Sinemus is the Web Experience Coordinator for the Middle Atlantic Region (MAR). Although she updates the MAR web pages, blog, newsletter and social media, Hannah is not the sole author of this content. If you have questions about a MARquee or MAReport posting, please contact the Middle Atlantic Region directly at nnlmmar@pitt.edu.
Email author View all posts by Hannah Sinemus