New Directions at NLM
Posted by Hannah Sinemus on December 1st, 2016 Posted in: The MAReport
Tags: 2016 Issue 4
---
Director's Musings
Barbara Epstein, Director
The past several months have been a time of new directions and fresh initiatives at the National Library of Medicine.
In August 2016, we welcomed a new NLM Director, Patricia Flatley Brennan, RN, Ph.D. Patti, as she prefers to be called, is filled with enthusiasm for her role, and has been actively reaching out to the NLM and NN/LM user community for ideas and feedback. She recently presented an insightful Matheson Lecture at the conference of the Association of Academic Health Sciences Libraries/Association of American Medical Colleges conference in Seattle on November 10, and was the plenary keynote speaker at the American Medical Informatics Association meeting in Chicago on November 15. You can subscribe to her blog, NLM Musings from the Mezzanine, and also follow her on Twitter @NLMDirector.
NLM is also embarking on a new strategic planning initiative and invites input from its stakeholder community. There are four main planning themes:
The role of NLM in advancing data science, open science, and biomedical informatics
The role of NLM in advancing biomedical discovery and translational science
The role of NLM in supporting the public's health: clinical systems, public health systems and services, and personal health
The role of NLM in building collections to support discovery and health in the 21st century
Within these planning themes, you are invited to comment on the following areas:
Identify what you consider an audacious goal in your area of interest – a challenge that may be daunting but would represent a huge leap forward were it to be achieved.  Include input on the barriers to and benefits of achieving the goal.
The most important thing NLM does in this area, from your perspective.
Research areas that are most critical for NLM to conduct or support.
Healthcare systems and public health arenas in which NLM participation is most critical.
New data types or data collections anticipated over the next 10 years.
Other comments, suggestions, or considerations, keeping in mind that the aim is to build the NLM of the future.
This is an important opportunity to help shape the next future directions of NLM. For instructions on how to submit a response, go to the website. Responses are due by January 9, 2017.
On behalf of our MAR staff, I wish you a peaceful and happy holiday season and a successful and productive new year in 2017!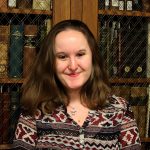 ABOUT Hannah Sinemus
Hannah Sinemus is the Web Experience Coordinator for the Middle Atlantic Region (MAR). Although she updates the MAR web pages, blog, newsletter and social media, Hannah is not the sole author of this content. If you have questions about a MARquee or MAReport posting, please contact the Middle Atlantic Region directly at nnlmmar@pitt.edu.
Email author View all posts by Hannah Sinemus