Small Technology can have a Big Impact: Get Yours with a Health Information Awareness Award!
Posted by Hannah Sinemus on December 1st, 2016 Posted in: The MAReport
Tags: 2016 Issue 4
---
MAR Highlights
Renae Barger, Executive Director
Have you been wanting to upgrade your organization's technology, or try something new such as an interactive kiosk or an interactive flat screen? Maybe you sponsor health fairs and would benefit from a mobile workstation to demonstrate online health information? Or, perhaps you provide services to individuals with disabilities who would benefit from adaptive technologies to access health information?
If you answered, 'yes' to any of the above, then MAR's Health Information Awareness Award is for you! Your organization could receive up to $5,000 toward technology purchases that facilitate access to health information.
To get your ideas flowing, below are two terrific examples of past projects that creatively integrated technology into health information outreach.
Smartboard – Interactive Display System Library Resource Outreach – This project was completed by Coney Island Hospital, Harold Fink Memorial Library. The library purchased an interactive Smartboard as an innovative method to extend services outside the library walls. This has resulted in increased visibility and recognition for the library. The Smartboard has been used for presentations on library resources for a variety of clinical departments; it became integrated into the dental residency training program; and the nursing department approached the library to begin library in-service training for nurses.You can hear more about this project from Laraine Tursi's July 2016 presentation done for MAR's Lunch with the RML series. (Fast forward the recording to 14:57.)
Waiting Room Education – This project was completed by the Genesee County Health Department in Batavia, NY. The health department purchased tablets and a printer to be placed in their clinic waiting room.  The tablets were set up to direct users directly to NLM resources; usage analytics were set to monitor how many times NLM resources were viewed; and nursing staff implemented NLM's Information Rx program to direct patients and families to quality health information.  Additionally, the public health educator used the tablets to demonstrate NLM resources during their health outreach fairs.
If you do not need technology, you may still receive a Health Information Awareness Award for other projects, such as hosting an outreach event.  This is a great way for you to receive funds to bring in a speaker and host an event that showcases a biomedical or health topic and health information resources.  Organizations have used this to host events surrounding research data management, open access and national health observances.
We currently have funds available to award 10 Health Information Awareness projects.  Projects must be completed by April 30, 2017, so don't delay, apply today!  Do not feel intimidated to apply; the application is relatively quick and straightforward and we prefer succinct responses. MAR staff is available to discuss your project ideas and provide consultation to help you succeed.  To request assistance, contact us at nnlmmar@pitt.edu.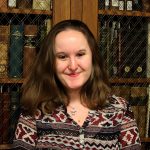 ABOUT Hannah Sinemus
Hannah Sinemus is the Web Experience Coordinator for the Middle Atlantic Region (MAR). Although she updates the MAR web pages, blog, newsletter and social media, Hannah is not the sole author of this content. If you have questions about a MARquee or MAReport posting, please contact the Middle Atlantic Region directly at nnlmmar@pitt.edu.
Email author View all posts by Hannah Sinemus