Disaster Recovery for Delaware: Exploring Potential Partnerships Among Emergency Planners, First Responders, Librarians and Others
Posted by Hannah Sinemus on February 21st, 2017 Posted in: The MAReport
Tags: 2017 Issue 1
---
Sharing & Caring
Michelle Burda, Education & Health Literacy Coordinator
On Tuesday, February 28, 2017, The Disaster Research Center, at the University of Delaware, the National Network of Libraries of Medicine, Middle Atlantic Region and the Delaware Division of Libraries sponsored Disaster Recovery for Delaware: Exploring Potential Partnerships Among Emergency Planners, First Responders, Librarians and Others. This summit  brought together Delaware public, health sciences, and academic librarians, emergency management directors, operation planners from Delaware Emergency Management Agency, the Medical Reserve Corps, healthcare professionals and other agencies involved with disaster planning, response, and/or recovery.
The intent of this state-wide event was to connect library staff with emergency planners to help communities bounce back more quickly following a natural or man-made disaster. The focus was on developing partnerships and strategies before an emergency happens. Emergency responders spoke on ways libraries can assist them in mitigation and preparedness, response and recovery.
Special guests included Susan Quinn, MLIS, CPM, Library Director, Ocean County Library (NJ) and Leslie D. Terjesen, Public Information Officer Coordinator, Office of Public Information, Education and Outreach, Ocean County Health Department who experienced Superstorm Sandy first hand.  During their presentation, 'Partners in Rebuilding: Libraries, Community Partners and Emergency Responders', they discussed their experiences and lessons learned from collaborative disaster response and recovery efforts involving Ocean County libraries and area emergency managers.
Improving Access to Disaster Health Information', Michelle Burda, MLS, Education and Health Literacy Coordinator for National Network of Libraries of Medicine, Middle Atlantic Region and Siobhan Champ-Blackwell, MSLIS, Health Sciences Librarian, National Library of Medicine(NLM), Specialized Information Services Division, Disaster Information Management Research Center(DIMRC) highlighted resources from the NLM's Disaster Information Management Research Center that apply to the mitigation and preparedness; response and recovery phases for emergency planners, first responders, librarians, or any organization involved with disaster planning, response, and/or recovery. This presentation included information about the Disaster Information Specialization, developed by Medical Library Association and the NLM. The program trains individuals in providing access to information for disaster and emergency preparedness, response, and recovery supporting their institutions and communities throughout the disaster/emergency cycle. Specialization is open to librarians and other interested professionals.
This was followed by a panel discussion 'Emergency Planners: Opportunities for Libraries'. Panelist included Dave Carpenter, Coordinator of Emergency Management, New Castle County, George Giles, Director, Office of Emergency Management, City of Wilmington, Joe Thomas, Director, Emergency Management, Sussex County, Tim Cooper, Director, Office of Preparedness, Delaware Division of Public Health, Joshua L. Kelly, Operations Planner, Delaware Emergency Management Agency and Dan Wilson, a specialist in disaster planning for libraries. Dan lead the panel in assessing  each planner's role in a disaster; their vision of how libraries and library staff can support their efforts in mitigation and preparedness, response and recovery; and strategies to put into place to build Delaware's community resilience before an emergency happens.
In the afternoon attendees participated in breakout sessions with representatives from the Delaware counties to explore the library's role as a second responder. Groups shared conversations and information learned.
A topic that is very important in emergencies and disasters is addressing access and functional needs of those in the community. This was discussed in the presentation ''Considering People with Access and Functional Needs in Disaster Response and Recovery" with guest speakers- Phyllis Guinivan, Ph.D., Program Manager and Rochelle Brittingham, Ph.D., Program Coordinator, Emergency Preparedness for Individuals with Disabilities, Center for Disabilities Studies, University of Delaware.
The day ended with Dan Wilson discussing Libraries One Page Disaster Plan, a resource toolkit for attendees. Ingrid Hansen, Delaware Medical Reserve Corps Unit Leader explained what the Medical Reserve Corps does and what opportunities there are for librarians as volunteers.
Attendees received a flash drive with Delaware's disaster and emergency preparedness community resources, NLM's health information disaster resources. Future plans and evaluations for what libraries learned ended the Summit.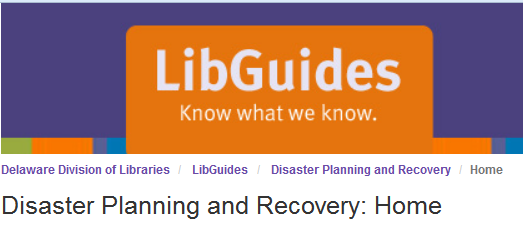 For more information visit the excellent resource guide developed by Alison Wessel, MSLIS, MA, Director of Library and Information Services Department of Health and Social Services Library, at the Delaware Division Libraries Disaster Planning and Recovery LibGuide. If you are interested in planning a Disaster and Emergency Summit in your state please contact NNLM MAR at nnlmmar@pitt.edu.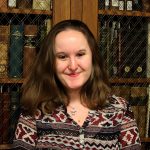 ABOUT Hannah Sinemus
Hannah Sinemus is the Web Experience Coordinator for the Middle Atlantic Region (MAR). Although she updates the MAR web pages, blog, newsletter and social media, Hannah is not the sole author of this content. If you have questions about a MARquee or MAReport posting, please contact the Middle Atlantic Region directly at nnlmmar@pitt.edu.
Email author View all posts by Hannah Sinemus