Member Spotlight: Carol Cave-Davis
Posted by Hannah Sinemus on February 28th, 2017 Posted in: The MAReport
Tags: 2017 Issue 1
---
Carol Cave-Davis, AHIP
Director, Medical Library at Jamaica Hospital Medical Center & Coordinator of Library Services, Medisys Health Network
Queens, New York
In my family, graduations are celebratory events punctuated by storytelling. My graduation from Pratt Institute with an MSLIS was no different. My younger brother told the story of his 9 year old sister (me) taking him at age 5 to the public library to get his first library card.
"After laboriously printing my name on the application and library card, the librarian inspected my "signature" and then congratulated me on becoming a library member.  She told me I didn't have to wait to take the group tour because my sister could give me that tour and show me a few other special places not included in the tour. Besides the children's room, and adult reading rooms my sister showed me rooms where people were repairing books and doing other mysterious things. She made the library a very special place."
At the conclusion of the story my brother pulled that first library card out of his wallet. It took me many years to figure out what he at age five knew about me.
My father was a physician (Family Medicine) and my mother was a nurse. My family lived above their office. The office was a place where we played, studied, worked and tutored children who were waiting to see the doctor. I started college, dropped out, helped many individuals to complete college, became a certified laboratory technician, designed and made costumes for my older brother (a musician) and eventually decided to return to college. I began working as a part-time evening clerk in a university medical library, I did not recognize what I now know is my calling. I am fortunate that friends and professionals encouraged, mentored, pushed, pulled, and dragged me kicking and screaming to my career.
I am a Medical Librarian, all of my library experience, both non-professional and professional, is in Medical Libraries. I have recently added a Level II Consumer Health Information Specialization to my credentials.  The Middle Atlantic Region has been and remains instrumental in my professional growth and in the development of my library's services.
The library at Jamaica Hospital Medical Center provides services to all departments and employees of the Hospital and Ambulatory Care Center. Our primary users are participants in our graduate medical education programs, rotating medical students, and nurses.  Because of the online training offered by MAR I have a trained, talented and empowered library assistant who keeps the circulation desk and interlibrary loan services humming.  As the Director, I am responsible for the organization and management of the department and the provision of reference services, training and approval of all knowledge based information for the hospital. As the Coordinator of Medisys Health Network Library Services I am responsible for providing services to 11 offsite Medisys Clinics and 3 School Based Health Clinics. I work with Robin Dornbaum, the Medical Library Director at Flushing Hospital Medical Center to develop and maintain an electronic collection which supports the unique needs of both institutions. Having another librarian in the system to collaborate with is a bonus.  Our hospitals are voluntary non-profit safety net hospitals in one of the most culturally diverse counties in the nation. There are many challenges and limited funding.
My mentors taught me that if I wanted my professional voice to be heard, I would need to be active in professional organizations. I am most active with the BQSI/MB Health Sciences Librarians. This involvement facilitated a deeper relationship with the Middle Atlantic Region.
Based upon the success of a MAR grant awarded to a BQSI/MB library, Flushing Hospital and later, Jamaica Hospital acquired iPads, loaded them with e-resources and are circulating them to Residents. You could say we are the indirect beneficiaries of a MAR grant.
As a member of the MAR Health Sciences Library Special Advisory Group, I was on the planning committee for the  MAR sponsored Affordable Care Act Symposium held a few years ago. This experience is directly responsible for my decision to obtain the Consumer Health Information Level II Specialization. The symposium provided a library relevant perspective to the Affordable Care Act.  I was already demonstrating MedlinePlus to individual patient navigators, emphasizing the Spanish language and other foreign language pages. The symposium validated my activities with my navigators. I recently learned that MedlinePlus language videos are used in our navigator's medical interpreter training. Our Navigators know that the MyChart portal includes links to MedlinePlus. Recently, MAR offered the CE course "From Beyond our borders: Providing Multilingual Multicultural Health Information". I was able to share a link to "Interpreting in Palliative Care" with our LEP department and our Director of Palliative Care.  Much of the activity surrounding registration for patient portals, language and cultural sensitivity derives from the Affordable Care Act. I am not interacting directly with consumers; however, I am insuring that those who do, have access to quality information.
The opportunities that MAR affords librarians to improve their library services and to grow professionally are unparalleled.  I have transitioned from the print index medicus to Medlars databases, to Grateful Med, to Entrez PubMed, to Apps; from paper interlibrary loans forms and mail to DOCLINE and scanning, web pdf; from bibliographic instruction to running EBM journal clubs solo; patients to consumers. MAR's online continuing education and willingness to develop programing to meet our needs is a key feature.  After a moment of reflection I realize that during periods of rapid change MAR has played a huge role in helping me to navigate these vary uncharted seas… and so, I am a Medical Librarian with a Consumer Health Specialization.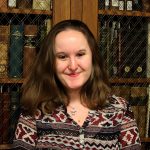 ABOUT Hannah Sinemus
Hannah Sinemus is the Web Experience Coordinator for the Middle Atlantic Region (MAR). Although she updates the MAR web pages, blog, newsletter and social media, Hannah is not the sole author of this content. If you have questions about a MARquee or MAReport posting, please contact the Middle Atlantic Region directly at nnlmmar@pitt.edu.
Email author View all posts by Hannah Sinemus