Data Services for Librarians in MAR (and Beyond)
Posted by Hannah Sinemus on May 26th, 2017 Posted in: The MAReport
Tags: 2017 Issue 2
---
Academic Outreach
Elaina Vitale, Academic Coordinator
What has MAR been doing with data lately? A lot!
MAR is proud to announce the recent funding of two data-related awards from two of our member libraries:
New York University Health Sciences Library — Facilitating the Development of Research Data Management Services at Health Sciences Libraries
The proposed Research Data Management program is designed to provide training, tools and strategies for medical libraries seeking to develop research data management services. This program provides a holistic approach to developing data services that focuses on building the required knowledge base, understanding and connecting with researchers, promoting effective outreach strategies, and integrating with the broader institutional data community. The program consists of online training modules to provide the necessary background in research data management, and three components to assist libraries in implementing services at their institution:
A data interview template with outreach guidelines
A teaching toolkit consisting of slides, script, and evaluation materials
Strategies and promotional materials for developing a data class series
While this project is initially being piloted in the Middle Atlantic Region, the principal investigators hope to create a model for libraries across the US.
University of Pittsburgh Health Sciences Library System — University of Pittsburgh Data Catalog
This project proposes for the Health Sciences Library System (HSLS) at the University of Pittsburgh to implement the data catalog code created by the New York University (NYU) Health Sciences Library to aggregate University of Pittsburgh health sciences datasets and make them discoverable; significantly increasing the access to datasets created at our institution. HSLS will expand on NYU's successes by editing the existing metadata scheme to capture the data of bench researchers, a population that NYU has not focused on to date, and to evaluate other possible search interfaces to increase usability. HSLS will utilize their strong library liaison program and existing partnerships with stakeholder on campus to reach our proposed goals.
We're very excited to support both of these projects and know they will have great reach beyond our member libraries in Delaware, New Jersey, New York and Pennsylvania.
This spring I had the pleasure of co-teaching an asynchronous course titled Big Data in Healthcare: Exploring Emerging Roles with two of my counterparts in the MidContinental Region (John Bramble) and the Southeastern/Atlantic Region (Tony Nguyen). This 9 MLA CE course was extremely popular and we're planning to offer it again this summer. Our students concluded their coursework with essays on the role librarians might play in big data in healthcare that we hope to share in the future. Keep an eye on the NNLM training schedule to see when it's offered again!
Lastly, the NNLM Resource Data Management team has been busily editing and updating the NNLM Data Services and Resources website. This is an amazing resource for librarians at all stages of the data journey. Visit it to learn more about our upcoming webinars, to attend a hackathon in your area, or simply to learn more about the data lifecycle and resource to support such work. This resource will boost professional development and help librarians support researchers in their institutions.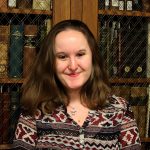 ABOUT Hannah Sinemus
Hannah Sinemus is the Web Experience Coordinator for the Middle Atlantic Region (MAR). Although she updates the MAR web pages, blog, newsletter and social media, Hannah is not the sole author of this content. If you have questions about a MARquee or MAReport posting, please contact the Middle Atlantic Region directly at nnlmmar@pitt.edu.
Email author View all posts by Hannah Sinemus