'Engage for Health': Improving Patient Doctor Communication @ Your Library or Organization
Posted by Hannah Sinemus on May 26th, 2017 Posted in: The MAReport
Tags: 2017 Issue 2
---
Consumer Connections
Lydia Collins, Consumer Health Coordinator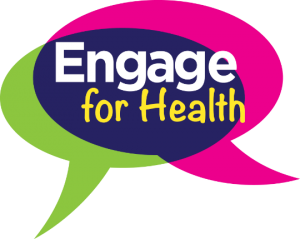 Do you offer health outreach and programming at your library/organization? If you're looking for an idea on a new program to offer to members of your community then 'Engage for Health' is for you. NNLM MAR partnered with The Hospital and Healthsystem Association of Pennsylvania (HAP), the Pennsylvania Library Association (PaLA) , the National Network of Libraries of Medicine Evaluation Office (NNLM NEO) and The Agency for Healthcare Research and Quality (AHRQ) to pilot a project to help empower people to 'engage' in their health.
The PaLA was a natural partner in this project based on their PA Forward initiative which is a Statewide initiative that focuses on helping to improve 5 literacies (basic, information, civic & social, health and financial) for all Pennsylvanians. Academic, Public and School Libraries across the State of PA are working to provide access to local resources, services and offer programming using the PA Forward platform. By using the PA Forward branding on the programs and services offered by PA Libraries are showing their stakeholders that their library is a part of this statewide initiative which is "powering progress and elevating the quality of life in Pennsylvania". Participating libraries have an opportunity to be recognized for the work they are doing through the PA Forward Star Library Program.
As a PA Forward Partner, HAP recognized the need to equip patients with the communication skills to make the most out of their doctor visits. Too many people feel that they are not knowledgeable enough or should not "question" doctors about their treatment plans. The 'Engage for Health' program builds upon AHRQ's 'Questions are the Answer' campaign and explains the reasons why it is critical for patients to speak up and become active participants in their or the health care process of a loved one. MAR funded an NNLM Award to have library staff from 16 libraries across the state of PA learn about NNLM resources, receive training on evaluation and assist in creating the evaluation tool, and commit to offering the program at their library. In addition, HAP, NNLM MAR and the Hershey Public Library (an original 'Engage for Health' cohort participant) has a recording of the program which was aired on the Pennsylvania Cable Network in April 2017, through funding from HAP. AHRQ who generously donated materials for libraries to distribute during the program recently published a case study on the pilot project.
So, what can you as a library or community agency do to help empower individuals in your community? Well, you can offer the Engage for Health Program at your Library or organization and know that NNLM MAR is here to help. The program can be run in collaboration with a local healthcare provider to add extra credibility to the subject matter. If you are a library in PA and want to offer this program you can contact HAP to locate a potential hospital/healthcare provider to partner with. The 'Engage for Health' toolkit is available online and includes a 16 slide PowerPoint presentation, an evaluation tool, role play exercise and media (video from AHRQ). The toolkit also provides information on resources you can order for distribution during your program and how to submit your completed evaluation forms to NNLM MAR as we want to know how valuable the program was in your community.
If you are attending the Medical Library Association 2017 annual conference in Seattle, WA join Elaina Vitale, MAR Academic Coordinator who will moderate the Special Content Session: 'Engage for Health': A Partnership for Improved Patient-Doctor Communication on Sunday, May 28, 2017 from 3-4:25 pm in Room 604. Come and learn about a community engagement program that is ready for you to use in your library setting to empower patients while improving upon their communication skills with health care providers. I will co-present with Jennifer Collins, Director of Public Affairs at The Hospital and Healthsystem Association of Pennsylvania will co-present. We hope to see you there! Find full program details on the MLA 2017 Sunday Conference Schedule.
For those of you who are not attending the Medical Library Association conference know that you will have an opportunity to learn more about 'Engage for Health' during NNLM MAR's Lunch with the RML webinar on June 21, 2017 from 1-2 pm EST, where you will get to hear from 'Engage for Health' cohort participants about their experiences offering the program at their library. Register for the June 21st webinar 'Engage for Health': A Program in a Box for Your Community to learn more about this exciting program.
The 'Engage for Health' program would not have been a success without the hard work of the project PI's Kathy Silks, former PA Forward Project Manager (second from left) and Susan Jeffery, Director of North Pocono Public Library (second from right). In addition, the evaluation expertise of Cindy Olney, Assistant Director NNLM NEO (far right) contributed to making 'Engage for Health' a valuable addition to NNLM offerings through the creation of the evaluation and the training sessions provided. Thank you to the amazing library staff from the original cohort and thank you to HAP, AHRQ and the current leadership at PaLA and PA Forward who continue to support and promote 'Engage for Health' throughout PA.
I encourage each and everyone one of you to take some time to review the materials and consider offering 'Engage for Health' to members of your community. If you would like assistance or have questions please do not hesitate to contact NNLM MAR and put 'Engage for Health' in the subject line.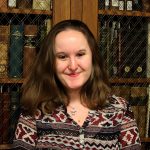 ABOUT Hannah Sinemus
Hannah Sinemus is the Web Experience Coordinator for the Middle Atlantic Region (MAR). Although she updates the MAR web pages, blog, newsletter and social media, Hannah is not the sole author of this content. If you have questions about a MARquee or MAReport posting, please contact the Middle Atlantic Region directly at nnlmmar@pitt.edu.
Email author View all posts by Hannah Sinemus