Member Spotlight: Elsa Bruguier
Posted by Hannah Sinemus on May 26th, 2017 Posted in: The MAReport
Tags: 2017 Issue 2
---
Elsa Bruguier, MLS, MA
Plainfield Campus Librarian
Union County College Libraries, New Jersey
With an increased emphasis on the two-year college sector, an awareness of community college librarianship has also come into sharper focus. So much of the national narrative emphasizes community college education as the portal to meaningful careers. Having a strong library is a core part of that mission. MAR membership therefore extends well beyond hospital and medical school libraries to provide our community college students and faculty with high quality information that will help them to excel in their work.
The sole full-time librarian, a tenured member of the faculty, and our campus librarian, I am responsible for administration of the branch, including collection development, creation of research guides, instruction, research appointments, multi-modal format reference provision, staff supervision, marketing (publicizing) library services, and programming.
Our library serves as the college's primary resource in support of allied health and nursing programs, and, in my role as liaison to those programs, I also serve on program advisory boards. An academic librarian since graduating from Rutgers University/SCILS in 1994, I have a second master's in Holistic Health Studies (Georgian Court University) and have served at research level, private, and associate degree granting higher education institutions.
In my experience, both health professionals and librarians are challenged to adapt to ongoing, rapid change and embrace an ethos of relating to those we serve. We also share the role of asking tomorrow's questions today so that we don't simply react to, but activate innovation in the interests of our diverse clienteles. Staying abreast of developments in librarianship is therefore a time consuming endeavor, as is maintaining profound awareness of the literature in disciplines for which we have collection development responsibilities. The pressure of scanning these environments can increase our sensitivity to our patrons, who also struggle to keep up.
Current awareness and keeping up to date is made easier by our medical library colleagues at MAR. They do the heavy lifting: communicating (by listserv and newsletter) news of vast and unparalleled resources, and creating opportunities (funding and professional development) that allow librarians to stay ahead of the curve professionally and on behalf of our patrons. Community college librarians, in cooperation with MAR, offer an invaluable teaching moment as we now expose our diverse users to vetted national resources that will be available after graduation.
Union County College recently proposed an RN to BSN completion program. If this proposal is approved, ours will be the first community college in New Jersey to offer a bachelor's degree in nursing. The consultants' questions to me were similar to those posed at an accreditor site visit. My ability to identify Union County College libraries as having NNLM MAR affiliate membership, with the benefits of that association, the scope of accessible resources, the MAR classes I had recently taken, as well as my service on the Academic SAG resonated with the external team.
Frontline librarians understand that students and even faculty can be intimidated by the prospect of navigating an increasingly complex information landscape. We also understand that becoming an information literate person in the health professions is not a nicety, but a necessity. It's also a process, and we foreground the college libraries as the "go to" source in becoming proficient in that process.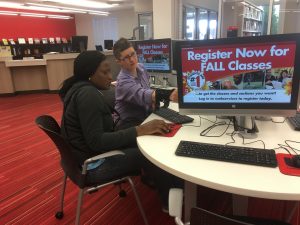 MAR membership opens new doors. Our community college library could never afford commercial products (if even available) with the breadth and scope of the resources that we use from the National Libraries of Medicine. Highlighting these professional, patient education, and health literacy resources underscores the value of the library, where librarian expertise and authoritative resources are central to learning. In addition, thanks to MAR, I was able to point students to a resource for publishing opportunities, something not typically associated with community college students and very exciting to them.
Being profiled here is a meaningful honor; yet the column's individual spotlight is truly a reflection of our NNLM MAR colleagues, who by their outstanding work, make us all brighter.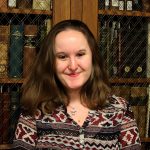 ABOUT Hannah Sinemus
Hannah Sinemus is the Web Experience Coordinator for the Middle Atlantic Region (MAR). Although she updates the MAR web pages, blog, newsletter and social media, Hannah is not the sole author of this content. If you have questions about a MARquee or MAReport posting, please contact the Middle Atlantic Region directly at nnlmmar@pitt.edu.
Email author View all posts by Hannah Sinemus