A Report from the Evidence Based Library & Information Practice Conference
Posted by Hannah Sinemus on August 25th, 2017 Posted in: The MAReport
Tags: 2017 Issue 3
---
Academic Outreach
Elaina Vitale, Academic Coordinator
This summer I was pleased to receive an ACRL scholarship to attend the Ninth Annual Evidence Based Library & Information Practice (EBLIP9) Conference in Philadelphia. This generous scholarship sponsored my attendance and meals at an amazing three-day conference with some very impressive librarians, and I'm very grateful to ACRL for making it possible.
The main tenet of the EBLIP conference and the EBLIP journal is to apply the best available research evidence to library and information practice, while also applying the knowledge acquired from that experience. Take a look at the conference program to read more about each day's sessions (and see how hard it was to pick for each!). I was so happy to see a number of MAR network members at the conference!
Some of the sessions that I most enjoyed:
Responding Proactively to Fake News—This timely panel was fascinating. The panelists discussed countering fake news—both navigating misinformation and the importance of continuing to promote reputable sources in all realms of research (MedlinePlus got an enthusiastic shout-out from one panelist, and cheers from the audience).
Collecting and Using Evidence Routinely for Advocacy—The keynote address emphasized the importance of using evidence for advocacy. Why do we sometimes collect the wrong kind of evidence, and why do we sometimes not bother to use our evidence at all?
Understanding Research Productivity: Fresh New Evidence for Librarians—This was a great overview to the research process for librarians. What barriers exist for librarians within their own research and how are these barriers addressed? What does a librarian need to be a productive researcher?
Evidence-based librarianship is not simple, and it does not happen overnight. In and out of conference sessions, I thought about the value of doing this hard work, and I thought about how to promote more evidence-based offerings to our network members. Evidence-based practice is at the very core of our suite of professional development trainings, but EBLIP9 taught me that evidence can be embedded and utilized truly everywhere. And of course, this is an important thing—evidence allows libraries to prove their value to stakeholders and helps libraries advocate for their constituents and services. To just this end, network members can always make use of our creative team of evaluation experts at the National Evaluation Office. Whether you're working on an NNLM-funded project or simply looking to assess the impact of your instruction sessions, make use of their helpful evaluation booklets, or check out their offering of evaluation courses.
One last unanticipated EBLIP9 highlight for me was stumbling across the Medical Library Association commemorative plaque in Center City while taking a walk with fellow NNLM coordinator Ann Glusker. It is ever exciting and rewarding to be part of this profession, and seeing the MLA plaque in person was humbling!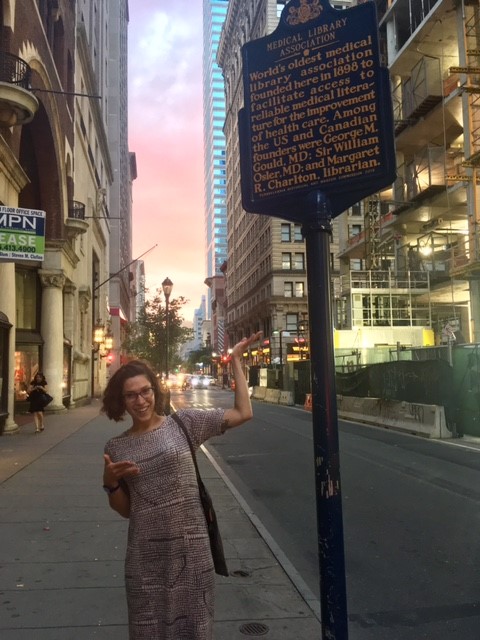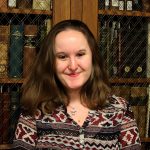 ABOUT Hannah Sinemus
Hannah Sinemus is the Web Experience Coordinator for the Middle Atlantic Region (MAR). Although she updates the MAR web pages, blog, newsletter and social media, Hannah is not the sole author of this content. If you have questions about a MARquee or MAReport posting, please contact the Middle Atlantic Region directly at nnlmmar@pitt.edu.
Email author View all posts by Hannah Sinemus