Member Spotlight: Sheila Caldwell
Posted by Hannah Sinemus on August 25th, 2017 Posted in: The MAReport
Tags: 2017 Issue 3
---
Sheila Caldwell, BSN, RN, CSN-NJ

School Nurse
Matawan-Aberdeen Regional School District, Aberdeen, NJ
What is your current position? Briefly describe what you do in your job.
School Nurse in Matawan-Aberdeen Regional School District. I am the school nurse in the district preschool. In my position, I address all the components of NASN's 21st Century Framework into my day-to-day work. Knowing that school nursing has come out of public/community health, I perform assessments and screenings and utilize surveillance tools to track outbreaks and to trend absences. I have meetings with parents, student's primary health care provider, other school disciplines and student, if appropriate, to develop health care plans and determine the best approach to care coordination for students while in school. I train staff on important health concerns and delegate care as allowed by laws. I keep up-to-date on new and news-worthy health in order to incorporate evidence-based practices and best practices into my role as a school nurse. Additionally, I have over 30 years with hospital experience spanning from Med-Surg to Critical Care to Case Management. I have worked in case management/utilization since 2000 and still work in a per diem capacity at Hackensack Meridian Health-Bayshore Medical Center.
What kinds of activities have taken place in your organization that have involved help from our organization and/or one of our coordinators?
I have shared the many resources available from NNLM as well as NIH materials. As I work in a school system, I have enlightened our curriculum department and teachers about topics that extend beyond health, like the NLM Historical Collection as well as other links, webinars and trainings available. NLM is not only about health!
Lydia Collins has provided me with an array of resources that I have share with nursing colleagues. All of the resources are wonderful, but I really have taken a liking to the information provided in the Outreach and Special Populations Branch. Working in school health and having concern for the community and the population health model, I find a lot of the information very valuable to know.
Have you or your organization received any awards or special attention for your hard work and special efforts?
In 2010, I was selected by Johnson & Johnson's "Campaign for Nursing's Future-Discover Nursing" School Nursing Promotional Campaign in their school nursing brochure, Nurse's Notes e-newsletter, "A Day in the Life" video and a few podcasts with prominent school nursing leaders.
In May 2016, I was recognized at NJSSNA's Annual Dinner as the "School Nurse, Who Makes a Difference" for Monmouth County along with a nurse from each of the other 20 counties. In June 2016, I received a Recognition Award from NASN as well as being recognized as "School Nurse of the Year" from the Johnson & Johnson School Health Leadership Program for my many efforts in school health. Also, in October 2016, New Jersey Academy of Pediatrics awarded me at their 25th Annual School Health Conference with their first award to a school nurse, "2016 School Health Advocate" award for dedication to "Linking School Nurses to Medical Homes".
MAR is your regional medical library (RML).  You have worked with MAR over the years—what do you consider to be important and/or valuable about working with your local RML?
The ability to work with a team of people who are committed to providing credible health information to the public.
I've had the opportunity to utilize exhibit awards to personally expand the reach of NLM information to school nurses and public health professionals in New Jersey as well as in my role with the National Association of School Nurses as monitor of their 2 major community communication boards.
My perspective has lent way to enhance importance conversations and considerations in the MAR Consumer Health SAG.
What do you find the most interesting about your job?
The ability to contribute to the educational and life of a child and family. What I mean is by teaching healthy lifestyle skills, children get it and take the information home to their families. What I do believes happens on many occasions is that the children teach the parents and the parents don't want to let their children down, so they make the subtle changes at home. For instance, brushing teeth twice a day. When we have the dental screenings in school and the children learn about the importance of their teeth and brushing in addition to taking home a new toothbrush, they tell their parents and are enthusiastic, wanting to brush at least twice a day or more.
What you do find the most challenging about your job?
I don't see working with the children, families and staff as a major challenge because all are on such different levels of education when it comes to health and that is why I have the job I do… to keep children safe and healthy enough to stay in school in order to learn. By instilling health information to the children, families and staff in a manner that recognizes evidence-based research and best practices, I am doing my job. Yes, I will say there are times when folklore, past experiences and personal opinions concerning health are brought up, but by getting all to understand that we are now in a time of looking at not only the individual health needs of a child, but the overall health of the school and community in the population health model. A school nurse's range of work is vast and a lot more than the perceived band-aids and icepacks.
Just keeping up with all the new innovations, research and technology in health care and education can be challenging. As a school nurse, I have to be knowledgeable in all going on in the health care arena, especially concerning school health and children in addition to keeping up with the many changes in education as it relates to public education.
This is why keeping up with the many resources from NIH as well as other governmental (national,state & local) information about health are so important. Medline, Medline Plus, the many webinars and classes of NNLM are so important for me.
What do you think has been the most important thing you've accomplished in your career?
Truthfully, I don't think that I have accomplished it yet, even though, there are many things that I have done in my life. Possibly, other people may view things I have done in a different light, but I believe that any and all things that I have done are what I was supposed to do. I guess if I was to mention something, it would be my ability to provide information, resources and connect with people that ultimately impact the lives of children, families and communities. By providing information to other school nurses, educators and almost anyone that I encounter, they become armed with the tools to affect change for those in their care.
Looking into the future, what concerns do you have for your profession?
As our society is aging, so are nurses. I see that there are people entering the field of nursing, but as fast as you can blink an eye, technology and health care are changing.
Nursing is about there being personal (touch) interactions. As we become more digital and there is so much information available, that key aspect of nursing seems to be dwindling. We see it already with some aspects of telemedicine and telehealth. We are having to function in a manner that is not a part of the spirit of being a nurse.
The advancements to the recognition and visibility of the profession is great. There is a push for a national nurse in a governmental position. Nurses are taking legislative positions and even in recent laws, my specific nursing specialty of school nursing is mentioned! At the most trusted profession many years over, nursing overall is making its presence known and thriving. The key is to channel more young people into the profession (male and female) as there are opportunities available for all. Nursing is a dynamic and broad profession that is seen in every aspect of society.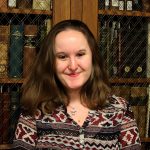 ABOUT Hannah Sinemus
Hannah Sinemus is the Web Experience Coordinator for the Middle Atlantic Region (MAR). Although she updates the MAR web pages, blog, newsletter and social media, Hannah is not the sole author of this content. If you have questions about a MARquee or MAReport posting, please contact the Middle Atlantic Region directly at nnlmmar@pitt.edu.
Email author View all posts by Hannah Sinemus