NNLM MAR Partnership
Posted by Hannah Sinemus on August 25th, 2017 Posted in: The MAReport
Tags: 2017 Issue 3
---
Did You Know?
Michelle Burda, Education & Health Literacy Coordinator
Did you know that the NNLM Middle Atlantic Region has an ongoing partnership with the Delaware Medical Reserve Corps? The Medical Reserve Corps (MRC) program, as described by the Department of Homeland Security, "coordinates the skills of practicing and retired physicians, nurses and other health professionals" as well as other community members without healthcare backgrounds interested in volunteering to improve the health and safety of their communities. Nationally they total  991 communities and almost 200,000 volunteers. The Delaware Medical Reserve Corps (DMRC) is sponsored by the Delaware Health and Social Services, Division of Public Health, Emergency Medical Services and Preparedness Section. The DMRC has three county units (New Castle, Kent, and Sussex counties) that provides the structure needed to "pre-identify, pre-credential, pre-train, and activate volunteers in a timely manner." All MRC volunteers must complete an online DMRC orientation to the program and other required training. Quarterly meetings that can include trainings are held in each county with topics related to disaster and emergency preparedness or public health. This is how the partnership between MAR and the DMRC began.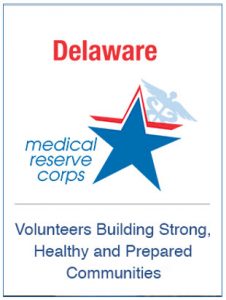 Two years ago, August 17, 2015, I presented the program Packing Your "Digital Go-Bag" Essential Disaster Health Information on Your Mobile Device. This class was developed by Disaster Information Management Resource Center (DIMRC), a part of National Library of Medicine's (NLM) Specialized Information Services (SIS) division. It was designed to identify and discuss key, evaluated mobile applications that responders and disaster/emergency preparedness professionals or volunteers should be familiar with and have loaded on their mobile devices as part of their personal and professional "digital–go-bag."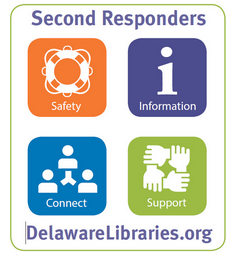 DMRC also partnered with MAR in planning and participating in the Disaster Recovery for Delaware Summit: Exploring potential partnerships among emergency planners, first responders, librarians, and others in February of this year. The focus was on developing partnerships and strategies before an emergency happens. Emergency responders spoke on ways libraries can assist them in mitigation and preparedness, response and recovery. A panel discussion 'Emergency Planners: Opportunities for Libraries', included Dave Carpenter, Coordinator of Emergency Management, New Castle County, George Giles, Director, Office of Emergency Management, City of Wilmington, Joe Thomas, Director, Emergency Management, Sussex County, Tim Cooper, Director, Office of Preparedness, Delaware Division of Public Health and Joshua L. Kelly, Operations Planner, Delaware Emergency Management Agency. The day ended with Ingrid Hansen, Delaware Medical Reserve Corps Unit Leader, explaining what the Medical Reserve Corps does and what opportunities there are for librarians as volunteers.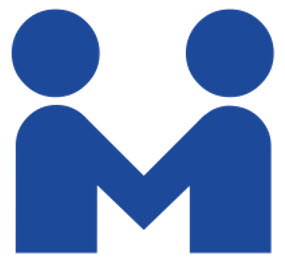 With the opioid crisis affecting all states, the Medical Reserve Corps of Delaware understands the importance of its volunteers being knowledgeable. They want them to be able to access free resources which help them to better understand the issues facing their community and to be able to recommend reliable, trusted information sources to community members whether it be family, friends or someone they are helping in their time of need. In August I provided training to the Delaware Medical Reserve Corps in the three county units on resources for understanding opioid use and treatment from NLM and other respected organizations.
If you would like information on these NLM resources or interested in providing similar training for your organization please contact Michelle Burda, NNLM MAR Education and Health Literacy Coordinator: mburda@pitt.edu.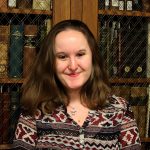 ABOUT Hannah Sinemus
Hannah Sinemus is the Web Experience Coordinator for the Middle Atlantic Region (MAR). Although she updates the MAR web pages, blog, newsletter and social media, Hannah is not the sole author of this content. If you have questions about a MARquee or MAReport posting, please contact the Middle Atlantic Region directly at nnlmmar@pitt.edu.
Email author View all posts by Hannah Sinemus