Renew Your Membership Today!
Posted by Hannah Sinemus on September 6th, 2017 Posted in: @ the RML, In the Region

---
As we are preparing our second batch of certificates to be printed and mailed, the folks at NNLM MAR wanted to take a moment to reach out to explain in a little more detail what it means to "renew" your membership, and why we are asking for all of our Liaisons to verify that their organization record is up-to-date. If you follow any of our communications or visit our website, you have most likely seen announcements and postings about this process, and may be wondering how this affects your organization, or why you should take the time to update your record. This is an important process to us at NNLM, but it is equally important to all of our members who provide health information services, and are dedicated to improving the public's access to biomedical health information resources.
Accurate data – information in any database can only be useful- to us, and to you- if it is current and complete.
Partnership opportunities – one of the most significant purposes of our directory is for member organizations to be able to locate and learn about other members. For example, if your organization is planning an outreach project and looking for a local partner, or an institution to provide a supplement to your services, you can use our directory to search for specific kinds of organizations. You can also connect with the MAR staff to assist in creating and developing those relationships. Your institution may be missing out on some wonderful opportunities, simply because the phone number listed on your record is no longer in service, or the web address is invalid.
Specialized training – one of the benefits of NNLM Membership is working with our staff to provide training for your unique needs. Our regularly-scheduled trainings include a broad range of topics, however your professional group or staff may be interested in learning about a particular resource in more depth than our general classes offer. As a network member, you can contact us to discuss these interests and we will work with you to develop specialized training, and even bring the sessions to you via in-person site visits!
Funding – many organizations desire to develop their outreach efforts within their community but have limited budgets or scope to complete a project. NNLM Membership makes your organization eligible to apply for our funding opportunities.
New certificates – when you become a Member, we provide a certificate recognizing your efforts in supporting our mission to improve the public's access to biomedical health information. After you have verified that your record is up-to-date, we will send you a new certificate to reflect your continued support of our national goals. Bonus: Take a photo with your certificate and email or tweet it @NNLMMAR so we can highlight your organization in an upcoming blog post!
We appreciate your time in completing the update process, and hope that you will enjoy your new certificate as much as our colleagues at Lavery Library, and the Nesbitt School of Pharmacy. If you're unsure how to begin, please see our membership renewal flyer for more information.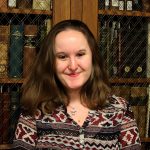 ABOUT Hannah Sinemus
Hannah Sinemus is the Web Experience Coordinator for the Middle Atlantic Region (MAR). Although she updates the MAR web pages, blog, newsletter and social media, Hannah is not the sole author of this content. If you have questions about a MARquee or MAReport posting, please contact the Middle Atlantic Region directly at nnlmmar@pitt.edu.
Email author View all posts by Hannah Sinemus