Viral Networks: An Advanced Workshop in Digital Humanities and Medical History
Posted by Hannah Sinemus on September 11th, 2017 Posted in: Data Science, Education, News from NLM/NIH, Technology

---
Join the National Library of Medicine, supported by the National Endowment for the Humanities (NEH) through a grant to Virginia Tech, for this exciting opportunity! On January 29-30, 2018, NLM will host Viral Networks: An Advanced Workshop in Digital Humanities and Medical History, bringing together scholars from various fields of medical history whose innovative research shows promise through the use of methods, tools, and data from the digital humanities.
Viral Networks will combine a face-to-face workshop with structured virtual-editing activities to produce and advance the innovative scholarship of the participants, and to help build the larger community of scholars who are pushing the envelope at the intersection of medical history and the digital humanities during this time of expanding digital resources and data-driven research. The focus on networks connects new computational tools for analyzing large-scale interactions between people, organizations, and ideas with the established emphasis of humanities scholarship on meaning, value, and significance over time and across cultures. Workshop participants will include twelve contributing scholars, who each will produce a chapter of original research in the planned open-access scholarly publication; consulting scholars who are experts in network analysis; and an advisory board which will coordinate stages of collaborative writing, peer review, collective editing, the final publication, as well as the preservation of data. After December 1, 2017, more information about the workshop will be available on the workshop Google site. Participation in Viral Networks will be free to scholars who apply and are accepted as participants.
Members of the public are invited to attend the keynote address by Theresa MacPhail, PhD, Assistant Professor Science and Technology Studies at Stevens Institute of Technology, and author of The Viral Network: A Pathography of the H1N1 Influenza Pandemic (Cornell University Press, 2014). Dr. MacPhail will speak on "The Evolution of Viral Networks: H1N1, Ebola, and Zika" describing the culture of public health, the production of scientific knowledge, networks of expertise, information sharing, and everyday experiences of epidemiologists, microbiologists, biomedical scientists, and medical practitioners.
Dr. MacPhail's address will take place on Monday, January 29, in the Balcony B Auditorium of National Institutes of Health (NIH) Natcher Conference Center, located on the Bethesda, Maryland, campus of NIH, and it will be part of the NLM History of Medicine Division's 2018 lecture series, which promotes awareness and use of NLM and other historical collections for research, education, and public service in biomedicine, the social sciences, and the humanities. As with all lectures in this series, Dr. MacPhail's lecture will be free and open to the public.
To help us ensure adequate space, and the overall success of the program, we ask individuals who are interested in attending Dr. McPhail's lecture to indicate their interest on the workshop Google site, when the sign-up form is available later this year.
Additionally, Dr. MacPhail's lecture will be live-streamed globally and subsequently archived by NIH VideoCasting.
NLM's support of Viral Networks: An Advanced Workshop in Digital Humanities and Medical History is part of its ongoing partnership with the NEH, and follows specifically on its cooperative involvement in several previous NEH-fundedinitiatives, namely the April 2016 workshop Images and Texts in Medical History: An Introduction to Methods, Tools, and Data from the Digital Humanities, which explored emerging approaches to the analysis of texts and images in the field of medical history; the April 2013 symposium Shared Horizons: Data, Biomedicine, and the Digital Humanities, which explored the intersection of digital humanities and biomedicine, and the October 2013 symposium An Epidemiology of Information: New Methods for Interpreting Disease and Data, which explored new methods for large-scale data analysis of epidemic disease.
About the partner institutions:
The National Endowment for the Humanities is an executive-branch, independent grant-making agency of the United States of America dedicated to supporting research, education, preservation, and public programs in the humanities and in those social sciences that use humanistic methods. NEH accomplishes this mission by providing grants for high-quality humanities projects to cultural institutions, such as museums, archives, libraries, colleges, universities, public television and radio stations, and to individual scholars.
The U.S. National Library of Medicine, part of the National Institutes of Health, is the world's largest medical library with more than 17 million items in its collection. A leader in information innovation, it is the developer of electronic information services used by scientists, health professionals and the public around the world. NLM makes its information services known and available with the help of the National Network of Libraries of Medicine, which consists of 5,600 member institutions, including eight Regional Medical Libraries. NLM conducts and supports research that applies computer and information science to meet the information needs of clinicians, public health administrators, biomedical researchers and consumers.
Dedicated to its motto, Ut Prosim (That I May Serve), Virginia Tech takes a hands-on, engaging approach to education, preparing scholars to be leaders in their fields and communities. As the commonwealth's most comprehensive university and its leading research institution, Virginia Tech offers 225 undergraduate and graduate degree programs to more than 31,000 students and manages a research portfolio of $496 million. The university fulfills its land-grant mission of transforming knowledge to practice through technological leadership and by fueling economic growth and job creation locally, regionally, and across Virginia.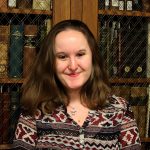 ABOUT Hannah Sinemus
Hannah Sinemus is the Web Experience Coordinator for the Middle Atlantic Region (MAR). Although she updates the MAR web pages, blog, newsletter and social media, Hannah is not the sole author of this content. If you have questions about a MARquee or MAReport posting, please contact the Middle Atlantic Region directly at nnlmmar@pitt.edu.
Email author View all posts by Hannah Sinemus