NNLM MAR Partnership: Health Care Education Association
Posted by Hannah Sinemus on November 17th, 2017 Posted in: The MAReport
Tags: 2017 Issue 4
---
Did You Know?
Michelle Burda, Education & Health Literacy Coordinator
At NNLM MAR, we partner with a variety of other organizations, regional and national. As Health Literacy and Education Coordinator, I am heavily involved in the Health Care Education Association (HCEA), a national organization for healthcare educators.
HCEA is a multi-disciplinary professional organization. Membership includes health care educators who are committed to improving healthcare outcomes through evidence-based patient, family, consumer, community and staff education, resource development and communications.

HCEA has given me the opportunity to share with other members the role medical librarians can play in patient education and to demonstrate and promote reliable consumer and patient education resources. I also promote the education and training NNLM coordinators provide across the United States and its territories. Most recently, I served on the conference planning committee and presented at the HCEA conference in September. In order to meet more members, I volunteered at the registration desk. My presentation, entitled "Patient Empowerment: Implementing Shared Decision Making in a Health Care Organization." I included an introduction to Shared Decision Making, examples of various types of decision support tools, and free, easy-to- read, and culturally appropriate health information resources easily accessible to patients and families, such as MedlinePlus.
My participation with HCEA actually predates my time at NNLM MAR. When I joined in 2004, I was as a new consumer health librarian at a large urban hospital in Pittsburgh. A number of librarian members participated in the Family Healthcare Education Resource Network (FHERN) that was made up of Medical and Patient and Family library/resource staff with an interest in patient and family or community health education. FHERN met in person prior to each conference and by phone, email and listserv in between. Since then FHERN gradually ceased to exist, but we have been exploring resurrecting this group if there is interest.
NNLM MAR is currently funding the HCEA on a project entitled "Development of Patient Education Professional Practice Guidelines to Promote Health Literacy." The purpose of this project is to develop concise patient education practice guidelines for health professionals which emphasize health literacy strategies. The HCEA will develop practice recommendations for patient education processes to effectively and efficiently meet the health literacy demands of patients/consumers. To support this endeavor HCEA, is contracting with the University of Pennsylvania Biomedical Library to conduct a literature search, focusing on the four components of patient education: assessment, planning, intervention and evaluation.
The HCEA website has information for members such as literacy assessment tools for written materials, illustrations for patient education and health related mobile sites and apps. Their website also links to free resources, including MedlinePlus and MedlinePlus Connect. Monthly eBlasts provide members with updates on what is happening in the organization and a brief overview of an issue in health education. HCEA meets biennially, and the next conference will be in Nashville, TN, October 23-25, 2019.
To give you more insight about this organization I asked members of the organization: What would you like others to know about HCEA or What has being a member of HCEA meant to you?

---
On networking: Carolyn Crane Cutilli PhD RN, Patient and Family Education Specialist, Hospital of the University of Pennsylvania and Adjunct Faculty, American International College, has been a member for about 10 years and is presently serving on the board of the organization.
"HCEA is an organization of professionals who are passionate about patients and families understanding how to manage their health concerns. Most members join for the networking/sharing opportunities.
HCEA has helped me in my role as a professional education specialist is through networking and resources offered through the website. For example, I recently was working with an ICU unit in my organization that wanted to develop a booklet on what families can expect when their loved one is in the ICU.  Before writing a booklet from scratch, I reached out to HCEA membership and asked if anyone had similar materials which we could view. Several members sent me materials from their organizations. The HCEA offers resources such as sources for graphics/illustrations in a page on the website 'for members only'".
On Professional development: Kathy Ordelt RN-CPN, CRRN, Patient and Family Education Coordinator, Children's Healthcare of Atlanta, HCEA Board Member and Website Liaison (currently retired).

"Before retiring, I worked for 20 years as the Patient and Family Education Coordinator at Children's Healthcare of Atlanta (CHOA). When I was first hired into this newly created position, I had some experience in my nursing career writing patient education (ed.) materials and had many years of experience teaching patients and families. But I had absolutely no experience overseeing patient ed. for an entire healthcare system. As a result, part of me was overjoyed knowing that I could positively impact patient learning, but the other part of me was thinking, "What have I done????"
I began reading books and articles by experts in the field at that time such as Rankin and Stallings, Kate Lorig, and Doak, Doak and Root. I was getting "book smart", but I found that I needed more. Just by chance, I stumbled across an organization dedicated to patient education – the Healthcare Education Association (HCEA). I signed up to attend their conference that year and was amazed not only by what I was learning, but also by the patient and family education experts who willingly offered their help to me in my quest to build a solid patient education department at CHOA. A few of those early experts included Sandy Cornett and Diane Moyer from Ohio State University Hospital, Fran London from Phoenix Children's, and Linda Kocent from Children's Hospital of Philadelphia.
HCEA members became my mentors and were happy to answer questions, send references, share triumphs and obstacles, and most of all, lend an ear when I was frustrated and failing. HCEA was the mortar holding my bricks together; in essence, they helped to build CHOA's patient and family education department. I will never be able to thank HCEA enough for all of the expertise, support and service over the last 20 years – I felt truly connected!
I went on to become a committee member, helped plan several conferences, and eventually, was on the Board of Directors for 8 years. It was my way of giving back to HCEA and especially to new educators who found themselves in the same position I was in all of those years ago."
Sandra Cornett, RN, Ph.D.  Former Director, OSU/AHEC Clear Health Communication Program, OSU College of Medicine (2001-2014), Adjunct, Assistant Professor, OSU College of Nursing (1984-current).
"As a founding member of HCEA (1997), the organization has provided a place where ideas and creative innovations / resources in patient/family education and staff education are freely exchanged. Everyone is enthusiastic in helping others with ideas and resources to meet the challenges of health education for patients/families and staff in the ever changing environment of the current health care system. HCEA provides a network of experienced professionals in the field of patient/family education where a novice can receive, not only resources, but encouragement and support as they learn and grow in the field.
Subcommittees are formed to plan the conferences and to meet our strategic goals and objectives Without HCEA, the needs of practitioners and managers in the field of patient/family education would not be met, as other organizations do not have the expertise nor focus in this area of health care."
Ann Furey, RN, MSN, MBA.
"I was the Director of Patient Education at Brigham and Women's Hospital for 8 years. Then, Director of the Nursing Care Transitions program for 2.5 years where patient education was an integral part of this program. I am currently working part time as a Patient Education Specialist at Dana Farber Cancer Institute, Boston and as a hospice nurse for Care Dimensions.
HCEA members with years of experience as patient education specialist freely offer advice and guidance to members new to their patient education leadership role on everything from how to structure a patient education department/program to how to document patient education to meet regulatory requirements.
HCEA members share resources other than patient education materials with colleagues. They offer to share program resources such as a feedback forms for obtaining patient/family comments on patient booklets, a teach back PowerPoint or an institutions documentation forms.
Hospitals tend to be dealing with the same practice changes put forth by regulatory agencies such as TJC and CMS at the same time. The HCEA members share ideas on how their individual organization are addressing these requirements. Eg. Teach back education for staff, implementing National Patient Safety Goals (NPSG) such as warfarin and Infectious disease education.
In addition to the same practice changes, patient education specialists are often also involved in similar initiatives across the country such as Implementing Patient Engagement systems like GetWell Netowrk or Telehealth, or choosing patient education for an EHR system and then dealing with the many issues of uploading the patient education content to an EHR for staff. The HCEA members engage in discussion and share experiences, practices, and how they are dealing with the challenges of these initiatives."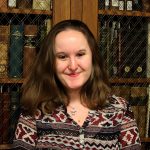 ABOUT Hannah Sinemus
Hannah Sinemus is the Web Experience Coordinator for the Middle Atlantic Region (MAR). Although she updates the MAR web pages, blog, newsletter and social media, Hannah is not the sole author of this content. If you have questions about a MARquee or MAReport posting, please contact the Middle Atlantic Region directly at nnlmmar@pitt.edu.
Email author View all posts by Hannah Sinemus