Highlighting Community Outreach within the Middle Atlantic Region
Posted by Hannah Sinemus on November 17th, 2017 Posted in: The MAReport
Tags: 2017 Issue 4
---
Academic Outreach
Elaina Vitale, Academic Coordinator
I've been so fortunate in my first year and a half here at NNLM MAR to do community outreach with academic, public, hospital, solo and special librarians across our region. The ongoing work that our outstanding network members do is a constant reminder that libraries truly are partners in a healthy community—and what good partners they are!
Consumer Health Coordinator Lydia Collins and I traveled to New Jersey in September to present at a day-long symposium organized by Healthier Middlesex and New Jersey Health Initiatives. The symposium, "Achieving Healthy Communities Through Collaboration with Libraries: Why, What and How," drew attendees from community-based organizations, all kinds of libraries, public health departments and community health centers for an engaging day of discussion and workshops.  Lydia and I presented on library partnerships and library programming—we were proud to share so many great stories of health outreach from our own region! We gave an overview of MedlinePlus, HealthReach, and NLM drug resources. We utilized data from the County Health Rankings and Roadmaps to create an activity focused on the health of specific New Jersey counties. Later in the day, a number of our New Jersey (and a few Pennsylvania) partners were panel participants, speaking on their experience with NNLM funding and health outreach. I'm looking forward to seeing what new projects and connections arise from the day!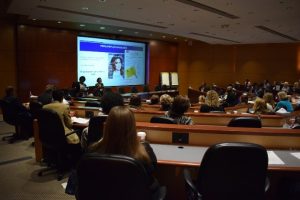 On December 5th, NNLM MAR is sponsoring and presenting at a symposium with the New Jersey Statewide Network for Cultural Competence. The event will bring together libraries, community-based organizations, government agencies and others to explore "Improving Health and Mental Health Literacy in Diverse Communities: Why Partnerships Matter."
Albany Medical College's Schaffer Library of Health Sciences and Division of Community Outreach and Medical Education have received two years of funding from MAR for their work partnering with area public libraries. AMC staff have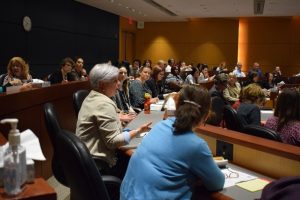 supported these public libraries by training librarians in NLM consumer health resources and in their creation of a workshop, Talking With Your Doctor. This program and AMC's funding has allowed a number of public librarians in the Albany area to work towards their Consumer Health Information Specialization (CHIS) designation. Read more about AMC's project in the latest issue of Consumer Connections (vol. 33, no. 4). On November 14, NNLM MAR offered a webinar on AMC's project. During this hour long webinar, attendees learned about AMC's experience and learn how to leverage their own existing relationships to build a successful outreach program. Check back on our Past Presentations archive in a couple weeks to see the recording from the session.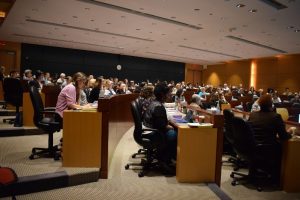 Are you interested in doing health outreach with different partners in your community? Consider checking our network directory of members to see who is in your area. Our network members include schools, public health departments, AHECs, faith-based organizations, and much more! MedlinePlus and 211 United Way also provide places to search for partners. The varied perspectives and backgrounds of team members across all of the mentioned programs have gone a long way to strengthen each project—it's always good to think creatively about who might be involved!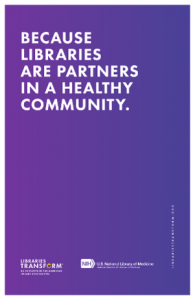 Bonus!: Interested in ordering free posters, postcards, bookmarks and more with health literacy messages like the above for your library? Check out our new Health Literacy Toolkit, created in partnership with ALA!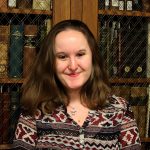 ABOUT Hannah Sinemus
Hannah Sinemus is the Web Experience Coordinator for the Middle Atlantic Region (MAR). Although she updates the MAR web pages, blog, newsletter and social media, Hannah is not the sole author of this content. If you have questions about a MARquee or MAReport posting, please contact the Middle Atlantic Region directly at nnlmmar@pitt.edu.
Email author View all posts by Hannah Sinemus