In Praise of Health Sciences Librarians
Posted by Hannah Sinemus on November 17th, 2017 Posted in: The MAReport
Tags: 2017 Issue 4
---
MAR Updates
Kate Flewelling, Executive Director
As I noted in our last issue, fall is the time for many conferences. Over the course of three weeks, I attended four health sciences library conferences! After several years of focusing my outreach efforts on health professionals, I was excited to introduce myself to and reconnect with many colleagues from within and outside our region.
At the New York-New Jersey and Mid-Atlantic Chapters of the Medical Library Association and at the Central Pennsylvania Health Sciences Library Association, I provided updates on NNLM MAR activities and national priorities. In particular, I spoke about:
At the two MLA Chapter meetings, I also attended National Library of Medicine updates provided by NLM Deputy Director Jerry Sheehan (New York-New Jersey) and Head, National Network Coordinating Office, Amanda Wilson (Mid-Atlantic Chapter), and Medical Library Association Updates provided by incoming President Beverly Murphy and current President (and NNLM MAR Director) Barbara Epstein.
At the Association of Academic Health Sciences Library (AAHSL) Annual Meeting, I met with library directors from our region to provide updates and to solicit feedback on our funding and on current trends in librarianship, research and health care.
I also attended sessions at each meeting to learn about the work health sciences librarians are doing in their clinical, research and academic institutions. I spent as much time as possible outside the formal meetings networking and hearing from our members.
At the New York-New Jersey Chapter, I attended a wonderful panel entitled "New Roles in Medical Librarianship." Panelists spoke of their work providing data services, outreaching through social media, serving on their medical school admission committee, providing critical appraisal for systematic reviews, and integrating health literacy into curricula. At the Mid-Atlantic Chapter, I was moved by a presentation by Dan Wilson from the University of Virginia. The Health Sciences Library hosted the Family Assistance Center following the recent violence in Charlottesville. Dan provided important insight about this experience, especially given his work in our region and others to improve libraries' emergency preparedness.
I came away from all these meetings with a renewed appreciation for my fellow health sciences librarians. Whether they are working with researchers, students, clinicians, industry or the general public, they are the front lines in organizing, storing, managing and proving access to information necessary for spurring discovery and improving health.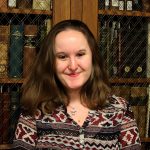 ABOUT Hannah Sinemus
Hannah Sinemus is the Web Experience Coordinator for the Middle Atlantic Region (MAR). Although she updates the MAR web pages, blog, newsletter and social media, Hannah is not the sole author of this content. If you have questions about a MARquee or MAReport posting, please contact the Middle Atlantic Region directly at nnlmmar@pitt.edu.
Email author View all posts by Hannah Sinemus