Member Spotlight: Nathaniel A. Thomas, MLS
Posted by Hannah Sinemus on November 17th, 2017 Posted in: The MAReport
Tags: 2017 Issue 4
---
Nathaniel A. Thomas, MLS

Reference Supervisor, Government Documents' Librarian
Reading Public Library, Reading, PA
I am the supervisor of the Reference Department and also the government documents' librarian. I am responsible for scheduling reference staff, overseeing collection development, and arranging adult programs and outreach efforts.
The City of Reading is, like so many places nationwide, currently in the grip of the opioid epidemic.  In light of this critical health and social crisis, we hosted a panel discussion on September 18. Pennsylvania's Physician General, a city paramedic, and a woman who lost her only child to a heroin overdose, spoke to this topic to a large audience.  We also shared local resources for those affected by this subject. The event was covered by local media and we will host another panel discussion on opioids next year.
Our library was awarded Gold Star Status from the Commonwealth's Star Library Program in May, which recognizes excellence in programming for all ages.
We have won multiple Outstanding PA Forward Program Awards over the years.
Our library worked with MAR in 2016 in conjunction with the "Engage for Health" program, geared toward helping people take a more active role in communicating with their health care providers. We look forward to partnering with MAR again in 2018 with particular emphasis in health-related programming for children and teen audiences.
I have worked primarily in government documents throughout my career, having served as such in my first professional position, and was hired in my current library for the same position. I was assigned responsibility of coordinating adult programs in my current position in 2012, and was promoted to department supervisor in 2016.
One of my favorite aspects of my job is collection development. I enjoy both weeding worn and outdated items as well as selecting new and relevant materials.
One of the greatest challenges of my job is making ends meet with the budget we are allotted. It is a challenge that becomes more formidable every year.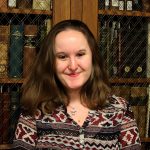 ABOUT Hannah Sinemus
Hannah Sinemus is the Web Experience Coordinator for the Middle Atlantic Region (MAR). Although she updates the MAR web pages, blog, newsletter and social media, Hannah is not the sole author of this content. If you have questions about a MARquee or MAReport posting, please contact the Middle Atlantic Region directly at nnlmmar@pitt.edu.
Email author View all posts by Hannah Sinemus