Through the Eyes of a New MLIS Student
Posted by Hannah Sinemus on November 17th, 2017 Posted in: The MAReport
Tags: 2017 Issue 4
---
Behind the Scenes
Hannah Sinemus, Technology Liaison
Joining the Master of Library and Information Science (MLIS) program at the University of Pittsburgh has been one of my longest standing academic goals. Working toward this degree is what spurned my interest in the University to begin with; It inspired me to search for my first library job – a student assistant in the Technical Services department at the Barco Law Library. It is what drove me toward my first professional position after graduating with a BS in Information Science – yet another choice to support my long-term dreams of helping people with their information needs. After three years, and a hefty dose of experience in the library environment – assisting medical students with technology at the Pitt Health Sciences Library System (HSLS), and now providing web support and training assistance with NNLM – I finally took the leap. I applied for the program, and I was accepted for the Fall of 2017!
I have been involved with the program for close to 3 months now, and from my personal point of view, every assignment is an interesting new opportunity. Working in multiple facets of the library system over the last five years has afforded me some very specific advantages. I am familiar with most of the technologies and services offered by our university; in my professional capacity, I have tested, tinkered, and trained others on many of the products utilized in the learning environment, particularly online. I have also developed a lot of personal opinions about the roles of information professionals in the constantly evolving world of eBooks, limited public funding, web technologies, and more. I could write pages about these topics (and I often have to cut my discussion submissions in half), but here are some general "lessons learned" for anyone interested in joining our cause:
The stereotypical librarian is a great (and laughable) myth – Information professionals come from every discipline, every background, and every culture. Some of us are soft-spoken, and some of us are boisterous. We are not exclusively cat-people, or wearers of glasses, or prone to shushing. I have met students who focused their prior academic careers on everything from creative writing to chemistry, to graphic design, to anthropology, and many, many more. Having so many new perspectives is extremely useful in facilitating discussion, especially when it comes to the topics of our future roles as librarians, archivists, educators, programmers, etc. Variety is essential in our ever-changing field, and we certainly have it!
There is always more to learn – Like anyone else, I have developed opinions through my personal experience. However, there is always more to read, more to know, and keeping an open mind – being open to change – is an important asset. I appreciate having opportunities for discussion and debate – two of my favorite pastimes. I also appreciate the ability to share the wealth, especially in a program with so many diverse backgrounds. Joining this field means a commitment to a lifetime of learning, a lifetime of expanding ones' perspective, and opening doors to discover what interesting things may be waiting on the other side.
Embrace collaboration – Over the last few years (and even more these last few months), I have realized that although I work well in solitude, great things are rarely truly accomplished by lone-wolves. In a broader sense, my position with NNLM would not exist without collaboration – between the University and the National Library of Medicine (NLM), between NLM and several other universities across the country, and between NNLM and our many member organizations. These partnerships are what allow us to function and provide necessary services to thousands of public libraries, academic institutions, hospitals, K-12 schools, and community organizations.
You know you're in the right place when you talk about what you do, on and off the clock – I often find myself writing about my professional life to provide examples for my coursework. I have promoted NLM products almost as much in my academic and personal life as I do professionally; I talk about my NNLM colleagues and the amazing work they do; I talk about the initiatives and projects that our RML has supported through funding and training. Though the next leg of my career is as of yet undetermined, working with NNLM has helped me to discover interests I may never have explored, and has similarly helped me to narrow my focus as I make course selections for the future. I am proud to be a part of NNLM, and it shows.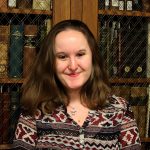 ABOUT Hannah Sinemus
Hannah Sinemus is the Web Experience Coordinator for the Middle Atlantic Region (MAR). Although she updates the MAR web pages, blog, newsletter and social media, Hannah is not the sole author of this content. If you have questions about a MARquee or MAReport posting, please contact the Middle Atlantic Region directly at nnlmmar@pitt.edu.
Email author View all posts by Hannah Sinemus