Libraries as Health Equity Partners
Posted by Hannah Sinemus on February 23rd, 2018 Posted in: The MAReport
Tags: 2018 Issue 1
---
Health Professions Updates
Erin Seger, Health Professions Coordinator
More than once since beginning my role as the Health Professions Coordinator with MAR, I have found myself explaining the connection between my educational background in public health and my professional experience as a Health Educator with the mission of the National Network of Libraries of Medicine. When you think about it, there is a natural connection. In the five months since I began this role, I've been introduced to public health and library partnerships in the Middle Atlantic Region that have given me a new appreciation of the role of libraries as public health partners.
When I first started studying Community Health Education in 2006, there was a focus on promoting individual behavior change to prevent chronic disease- the belief that if only an individual is provided with health information they will quit smoking, lose weight, get immunized, protect themselves from STIs… insert healthy behavior here. A few years later, I was working at a school of public health when my boss loaned me a copy of the PBS film Unnatural Causes. I was peripherally aware of the social determinants of health, but through this film was the first time that they were presented to me as a concept with a name. By the time I began working on my Master's in Public Health in 2014, the social determinants of health were a primary focus in the curriculum. I think that from a public health standpoint, one could initially wonder how libraries can be public health partners. After all, haven't we as public health professionals moved away from simply providing information in the hope of changing individual behavior? My response would be that even as we move forward in how we think about the underlying causes of illness, that libraries aren't just a place to check out a books, but partners in creating health equity.
Some MAR network members demonstrate just how libraries can be partners when it comes to health equity. In Pittsburgh, a program out of the Southwest PA Area Health Education Center called Connections4Health has partnered with a public library. The library provides a community venue where students studying to be health professionals meet with individuals in need of referrals to local resources that address the social determinants of health, such as those that offer food or housing assistance. Another NNLM MAR partner at the Philadelphia Department of Public Health is offering emergency preparedness training and local emergency resources in public libraries located in vulnerable neighborhoods.
The examples I highlighted inarguably demonstrate how libraries can be public health partners, and getting individuals from both organizations talking is important to foster these partnerships. This past December, I attended the New Jersey Statewide Network for Cultural Competence annual conference. This was a place where a variety of professionals were able to convene. Unlike conferences that tend to serve one primary population of professionals, this was an event attended by health department staff, librarians, community health workers and social workers. It was exciting to see how simply getting everyone in the "same room" allowed for the understanding that we might all be working toward similar visions of health and equity in the communities we serve. There was also a lot of interest in our display of Libraries Transform posters, one of which read "Because Libraries are Partners in a Healthy Community".
I was initially drawn to the public health field because of the breadth of job possibilities and the concept of prevention. My role with NNLM MAR so far has been an exciting way to think about different partnerships and avenues for prevention. Now, I look forward to continuing to help public health professionals understand the value library partnerships and NLM add to their work. In the coming year, I hope to explore the possibility of offering continuing education credit for Certified Health Education Specialists who participate in NNLM trainings. I'm excited about the prospect of having a fresh public health audience interested in NLM resources and the opportunity to explain to them why they are important network members. If I've learned anything in my first five months here, it's that NNLM for everyone.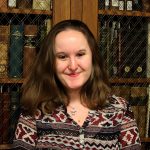 ABOUT Hannah Sinemus
Hannah Sinemus is the Web Experience Coordinator for the Middle Atlantic Region (MAR). Although she updates the MAR web pages, blog, newsletter and social media, Hannah is not the sole author of this content. If you have questions about a MARquee or MAReport posting, please contact the Middle Atlantic Region directly at nnlmmar@pitt.edu.
Email author View all posts by Hannah Sinemus