Member Spotlight: Olivia Glotfelty, MLIS
Posted by Hannah Sinemus on February 23rd, 2018 Posted in: The MAReport
Tags: 2018 Issue 1
---
Olivia Glotfelty, MLIS
University of Pittsburgh Medical Center – Mercy Hospital
Pittsburgh, PA
Medical libraries serve a vital role in the healthcare process. When I first entered my position as librarian at UPMC Mercy Hospital in Pittsburgh and met with hospital staff, the most common response was, "Oh, we have a library?" Medical libraries, often unrecognized and underutilized, provide services and resources that fit the diverse and dynamic needs of hospital personnel.
Like most hospital librarians, I provide library and information services for hospital staff; however, UPMC Mercy is a unique environment that also includes nursing students at the UPMC Mercy School of Nursing, nursing school faculty, medical residents, and pharmacy residents and interns. These distinct populations present differing information needs. Providing literature search services, filling articles and ILL requests, offering training sessions and workshops, and giving support and assistance to hospital personnel working on research and publication projects are just a few of the services I provide as a medical librarian. I am also involved in the administrative and IT aspects of librarianship. A focal point of my job is to increase visibility of the library through service on several hospital committees and speaking engagements throughout the UPMC system to inform audiences on ways the library can support hospital staff and other initiatives.
In my pursuit to situate the library as a nucleus within the hospital's research culture and infrastructure, I discovered an opportunity to integrate the library into the Nurse Residency Program, a mandatory, year-long program that all newly-hired graduate nurses complete. The program is focused on evidence-based practice and culminates in an evidence-based practice project. This educational program presented the perfect opportunity to highlight library services and resources and to integrate the library into the developing evidence-based practice culture at our institution. I transformed this idea into a project called Leveraging the Librarian in a Nurse Residency Program and was awarded MAR funding.
My role in the Nurse Residency Program includes teaching two sessions. The first session involves evidence-based practice and research skills covering several NLM resources. The second session instructs on presentation preparation, including how to write an abstract, cite sources correctly, and design an effective conference poster. I am also present at each of the twelve sessions to help incorporate evidence-based practice and research into skills demonstrations and to answer any questions that the residents have as they progress through the program. This project garnered significant attention. As a result, I was asked by other UPMC hospitals to present sessions to their Nurse Residency Programs and have also become more involved with evidence-based practice initiatives. I recently spoke at Nursing Grand Rounds and have been appointed to various evidence-based practice committees within my hospital.
In addition to integrating the library in traditional "classroom" sessions, I flexed my creative muscles and collaborated with a Nurse Residency Program facilitator to develop an escape room activity. During this activity, the nurse residents work through several scenarios and solve clues to "escape" and, ultimately, win the game. Our escape room concentrates on the National Patient Safety Goals and includes a library-focused activity that the residents must undertake using library resources and research skills. This activity shows the nurses how skills learned during classroom sessions are relevant to the workplace and can be implemented on their respective units.
The escape room activity was also met with positive feedback and success. I will be co-presenting a webinar on escape rooms in libraries sponsored by MAR on March 20, 2018 from noon to 1PM ET. I will also be presenting my project during a lightning talk session at the MLA annual conference in May and have submitted several poster abstracts to various conferences.
The value and importance of MAR cannot be overstated. I could not have taken on a project of this magnitude without the financial and organizational support of MAR. Whenever I have a question or need advice, the staff at MAR are ready, willing, and able to help. Their knowledge and support are unparalleled, and their connections to resources, organizations, and other professionals have been incredibly influential and significant in my professional development as an early-career librarian. Thanks to MAR support, I have successfully situated my library as an approachable, innovative, recognized authority on evidence-based practice, information resources, and research skills. I look forward to seeing how the library flourishes and my role as a hospital librarian expands as a result of this project.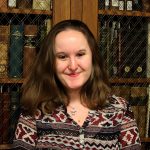 ABOUT Hannah Sinemus
Hannah Sinemus is the Web Experience Coordinator for the Middle Atlantic Region (MAR). Although she updates the MAR web pages, blog, newsletter and social media, Hannah is not the sole author of this content. If you have questions about a MARquee or MAReport posting, please contact the Middle Atlantic Region directly at nnlmmar@pitt.edu.
Email author View all posts by Hannah Sinemus